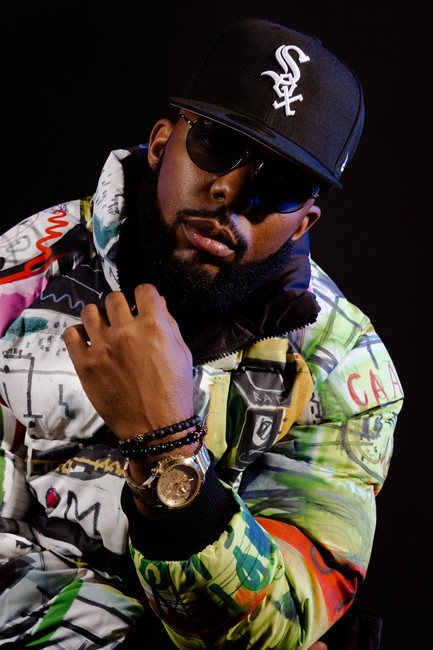 Flow: it's the mark of the impeccable MC and the true master of the art of hip-hop vocals. Flow picks up the listener and carries them along from verse to verse; flow is effortless, fluid, electrifying, unmistakable. Flow is what Marc DiNero has got, and every time he steps to the microphone, he puts his distinctive relationship to rhythm on display. "Don't Do That," his latest single, is brilliantly produced and expertly mixed, and it's got a great hook; nevertheless, it's DiNero's flow that makes the song undeniable. The moment he starts to rap, he's got you, and he doesn't let go until the last beat stops resonating.
If you're from Louisville, Kentucky, nothing we're telling you is news to you. In his hometown, Marc DiNero is already recognized as a man on the move — a rapper with world-class talent and the charisma of a star. "Don't Do That" is the track that's poised to catapult DiNero from regional recognition to national acclaim: a relentless, muscular, swaggering rap track that already hits like an underground classic. DiNero raps with absolute confidence and a sly sense of humor, too, and he makes an ideal tag team partner for his talented friend WunTayk Timmy. A savage punchline emcee, the Louisville-based Timmy is well known for his fiery collaborations with Bryson Tiller, but he's brought his A-game to his session with Marc DiNero, too. The two vocalists' styles compliment each other perfectly — DiNero is forceful and precise, excitable but always controlled, while WunTayk Timmy is relaxed and dreamy, smoky, and hypnotic. Their chemistry is thrilling, and they demonstrate that flow can take many shapes and follow many channels. But if you've got it (and these two do), it's impossible to miss.
Marc DiNero and WunTayk Timmy take turns in front of the camera in Steve Squall's energetic clip for "Don't Do That." Just as they do on the track, the two rappers showcase their complementary styles: DiNero looks fresh in his bright red t-shirt and Sox cap with the gold sticker still on the bill, while Timmy is all in black and backlit, with his own hat turned around backward. When they get together, it's a party — literally. There's a balloon drop and dancers in motion, and there's even a long-haired clown. And sure, he's a walking example of what not to do and the antithesis of the cool that the MCs display. He's still part of the show, and when the scene is as colorful as this, who could blame him?