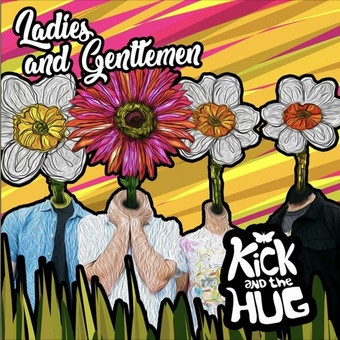 Kick and the Hug is kickin' the door down with the debut release titled 'Ladies and Gentlemen, Kick and the Hug'. What a fist-pumping start for this high-octane band that brings an overload of energy to the table with their brand new LP. I'm surprised to discover that this is a debut release for Kick and the Hug because the members perform like seasoned musicians who know how to cut a Gold-status record. But, I am hear to tell you Ladies and Gentlemen that Kick and the Hug may be rookies to the album making process but this group is no joke and full of raw potential!
Kick and the Hug features four talented players: Doug Murray on lead vocals & guitar, Sam Young on drums & keys, Mike Ferguson on bass, strings & vocals and Tyler Skye on lead guitar and in-house producer for this project. 'Ladies and Gentlemen, Kick and the Hug' is an excellent introduction for this band and will surely get people buzzing with its lively feel. What a rock-solid intro for Kick and the Hug with the song titled "In A Minute" that comes complete with steady, rockin' riffs. Next, get consumed with a catchy hook and appealing vocals on "Girl You Changed" that proves to be one power-packed performance. Track three, "More Often Than Not", pulls the listener in with a distinct voice & tone along with rock star playing by Kick and the Hug. I have to say folks that I am now hooked "More Often Than Not" when it comes to this particular song by Kick and the Hug. Moving on, I am blown away by a spectacular sound on "Born Too Late" that incorporated a pleasing rock melody to be enjoyed by many. Track five, "You Drop By", offers an electric delivery while the song "Boy" is melodic to the bone and musically rich with strong material being written and performed. On "Dead Mom", Kick and the Hug proves a point and that is the fact that this band can make a song that attracts to listeners worldwide. On track nine, "Daughter", Kick and the Hug switches directions a bit with more of a sensitive approach. "Daughter" proves to be a touching number that will pull at your heartstrings with its emotional chords. Last but not least, we hear "Trees" that is bursting with flavor and organic elements. The deep roots on "Trees" wrap around your ear canals and will not let go. Kick and the Hug is growing stronger each and every day as a band and this powerful finish on "Trees" is proof of that.
I am super pumped for the future of Kick and the Hug because the sound is so energetic and has that cool, live feel that will identify with many different fans out there. 'Ladies and Gentlemen, Kick and the Hug' on Storm King Mountain Records is one hell of a debut and so I can't wait to see what the band comes out with next. Kick and the Hug is here to stay with original and inventive rock music for the ages!
By Jimmy Rae