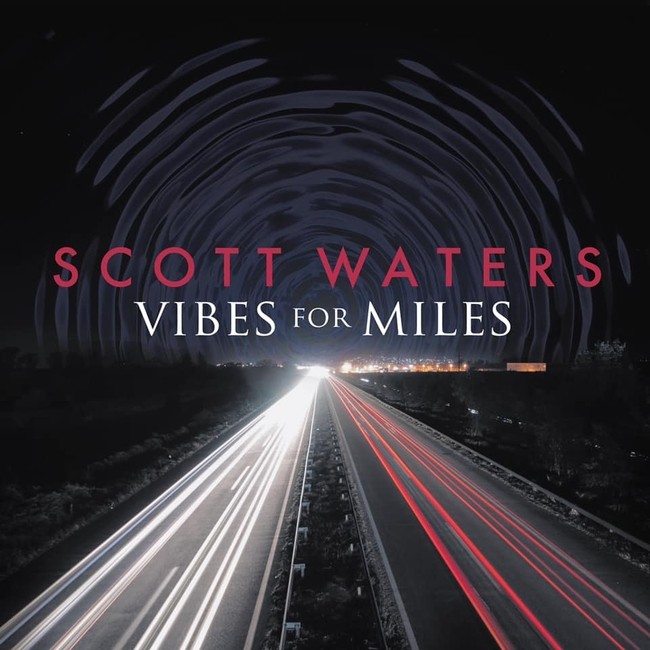 Scott Waters opens his album, Vibes For Miles, with "Love Is Gonna Find You," and the optimism suggested by that title doesn't lag much for the eleven songs on this consistently positive album. The lyrics to this album-opener, borrow from The Bible ("love is patient and kind"), as well as pantheism, in that God is all and in all. Waters comes off as a kind of hippie spiritualist. Maybe he's a little naïve. Even so, it is heartwarming to hear an artist that sings about good stuff, rather than all the bad things.
Waters is not such an up-with-people-guy, though, that he doesn't also notice the hard parts of life. "We Don't Talk Anymore" (No, not that Cliff Richard hit) reflects upon a relationship where a couple no longer communicates. It's a bit of a soft rock tune, featuring piano and an electric guitar solo. (Apparently, the love that found these people with "Love Is Gonna Find You," somehow lost them). Waters returns to happy vibes, though, with "The Other Side." Even though he admits it's okay "to have a good cry" now and again, everything's still going to work out fine. This is a light tune, with a memorable melody and enthusiastic vocals.
Although "We Don't Talk Anymore" reflects upon the dark side of romance, "Never Stop Loving You" focuses instead on dedicated love. It finds Waters apologizing for the times he's wronged his lover. Despite his bad behaviors, he asserts he's never stopped loving this person. It's been said we hurt the ones we love, and this lyric supports that assertion. Just because we screw up, however, doesn't mean we stop loving that other person. We're all human, after all. Sonically, this song sounds like one of those big REO Speedwagon hits in the '80s. "Keep On Loving You," in fact, which was released in 1980.
https://www.scottwatersmusic.com/
Waters' hippie side comes out most prominently through "Mile High Lucy and her Rainbow Shine." It may just be a reference to the Beatles' "Lucy In The Sky With Diamonds." Like a lot of tracks on this release, it features stacked vocals (probably Waters layering his voice multiple times). It's kind of a light rock psychedelic song. What comes next, though, couldn't be any more different. "She's My Favorite Color" is introduced with a horn section, which gives it a touch of soul. Nevertheless, once the song gets up to full speed, it's more of a pop song than a Stax/Motown type of thing. He even inserts a spoken word part. With that said, though, "Spaceships and Soda" rolls to a soulful groove.
Enthusiasm for life can be contagious. Such is certainly the case with Vibes For Miles by Scott Waters. Waters has what Iggy Pop described as a lust for life. This desire to live life to its fullest is a virus (unlike covid) well worth spreading around. Yes, you can say Scott Waters' album spreads (good) vibes for miles. This is an album to put on when you need to jumpstart your day with happy sounds. For the most part, the vibes coming through it range from good to great.
-Dan MacIntosh