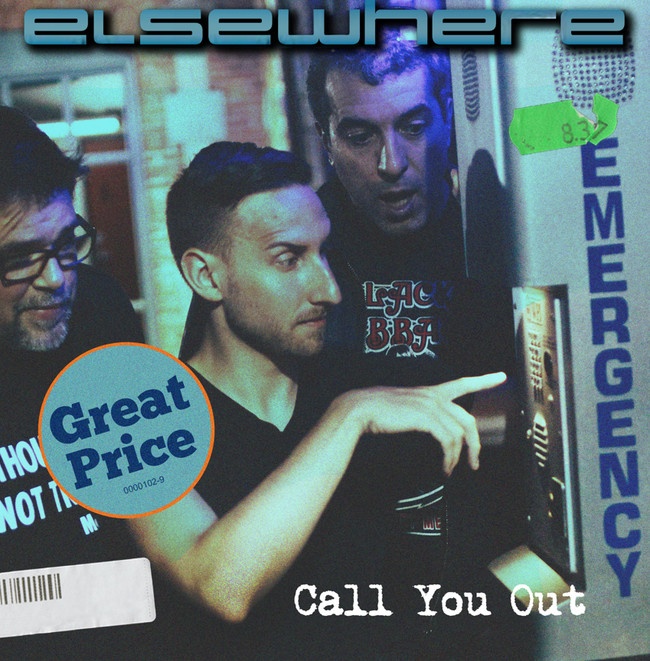 Elsewhere are, in some ways, a band from an earlier time. Their sound is thoroughly modern, they aren't moored to the past in any way, but the artistic spirit behind this band adheres to a much different aesthetic. Elsewhere comes across as everyday people gifted with the ability to convey their thoughts and feelings through music and their latest single "Call You Out" is a blast of pure pop rock fully in sympathy with its audience.
FACEBOOK: https://www.facebook.com/elsewhereband
Writing a song about dealing with a crappy boss will resonate without question. It never sounds like an overtly premeditated move to curry audience favor; it's likely autobiographical considering the band members still maintain jobs away from the music world. Some may think the subject is superficial thinking how deep can someone really go writing about this subject? The band's chief songwriter Michael Aroian has proven his mettle writing about thorny subjects such as Alzheimer's in earlier Elsewhere singles and gives "Call You Out" a sense of stakes listeners can sink their teeth into.
Its power pop strengths are clear. The backing vocals underline the song's inherent catchiness without ever taking it too far in that direction. Aroian's guitar, for rock fans, keeps the song honest. He's a player well versed in the genre's assorted tropes and histrionics, his skills practically leap out of your speakers, but nevertheless serves the song. There's no guitar hero bs weighing "Call You Out" down.
https://open.spotify.com/track/2wQNmdJ86JMakDrG1knAwb
The song is also well-served by Elsewhere's rhythm section. Adam Soucy's drumming propels the song forward with authoritative percussion that never pulverizes listeners. "Call You Out" benefits from a solid bottom that doesn't stay inert, laying down a simple foundation for the track, but instead works hard to fill any gaps in the band's sound. Bassist Kevin Swaluk is a more than capable match for Soucy and, together, they form an impressive musical team.
The vocal arrangement brings pop melody and rock attitude together in an inspiring package. Aroian has a strong voice that he's quite willing to push to its limits and the results are always a good fit for the material. It's not hard to imagine he's a riveting live singer. The band's tour as Our Lady Peace's opening act for the latter's Stop Making Stupid People Famous tour hits Elsewhere's hometown with a December 14th appearance at Boston's Paradise Rock Club.
MORE INFO ON 12/14 CONCERT: https://crossroadspresents.com/pages/more-info-event?eventid=vvG17ZpwDQJ9q5&venueid=KovZpZA11JtA
BUY TICKETS: https://concerts.livenation.com/our-lady-peace-stop-making-stupid-boston-massachusetts-12-14-2021/event/01005B2EDA99774B
It's a key time for all live acts as they navigate an uncertain re-emergence into a post-lockdown world. Attendance at the gig, however, is contingent on concertgoers wearing masks and presenting printed proof of either their vaccination within no less than the last two weeks or else documentation of a negative COVID -19 test from no sooner than 72 hours prior to concert time. It's a small sacrifice for supporting live music from some of the best contemporary acts playing and recording today. Aroian and his cohorts will win over anyone who gives them a chance for a lot of reasons but one, without a doubt, is they believe in every note and word.