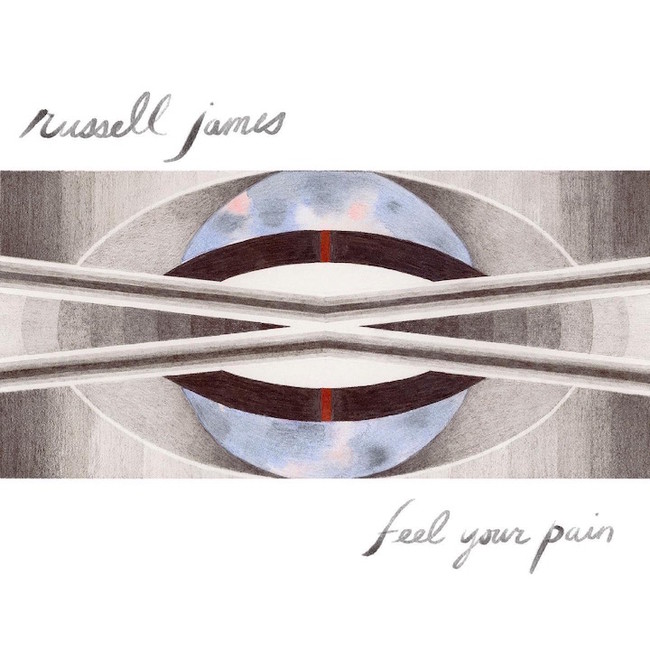 The title to Russell James album, Feel Your Pain, is a heck of a proposition. How many times have you heard someone say, 'You could never feel my pain.'? One person can never fully feel another's pain. Yes, we may offer to walk in another's shoes, as a sort of social courtesy, but we never actually do it. Because we can't. We own our experiences, and nobody can know them simply borrowing them. Therefore, we're mostly just lying whenever we say, 'I feel your pain.' With that said, though, James' album is one ambitious effort in empathy.
The album opens with one titled "History of Crime," which is an audacious manner to kick off the album. It's one of those wide-open spacious rock songs, which has an '80s Bruce Springsteen feel to it. What follows, however, couldn't be more different. It's built on acoustic guitar and banjo (yes, banjo) and it sounds like country music, filtered through John Mellencamp. Lyrically, however, the song mentions Elliot Smith, who passed away in 2003. Although Smith's music was sometimes deathly quiet, it's a little unusual to hear him sung about in this particular musical context. Although not a bluegrass artist, the banjo does return again on "A Quiet Life." It's a distinctive instrument, whenever it's used.
Spotify Pre-Save Full Album
https://smarturl.it/feelyourpain
James is obviously fascinated (obsessed?) with the creative process. After a song that name-drops Elliot Smith, he sings one titled "The Morning Singer," followed next by "The Poet." The latter is a kind ode to poetry and poets. It's sung over a fingerpicked acoustic guitar and augmented by harmonica. It has a bit of an early Dylan/Nebraska-era Springsteen vibe running through it. This latter inclusion may be where the album title comes from, as James sings about how the poet feels the pain of many. Then again, the best songwriters are also poets, only they set their poetry to music. Hence, songwriters often tap into humanity's collective suffering through their songs.
Although James is not a country or bluegrass artist (even though there are those musical elements sprinkled throughout Feel Your Pain), he does belong within the Americana realm. Harmonica shows up again on "Backseat Driver," which additionally includes acoustic guitar. There are also choir-like backing vocals on it. Lyrically, James takes an unusual approach for this one. It's a life journey song, only James describes himself as a backseat driver. Therefore, he sometimes feels as though life is taking him for a ride; a ride where he oftentimes has little to no control over where he's going, or how he'll get there. That sense of helplessness is sensed again on "My Hands Are Tied." This last selection incorporates and orchestrated arrangement. It's both a quiet and sad way to finish an album.
Instagram: http://www.instagram.com/autism.songs
No, Russell James cannot feel your pain. Nevertheless, as an artist, he has an ability to express his own pain and the suffering he observes in others. His album talks a lot about pain, it's true, but that doesn't mean it's painful to listen to it. James sings with a twangy, empathetic voice, which gives weight to every word he sings. We'll never have a world without pain, but at least we have creative types, like Russell James, that can transform pain into meaningful art.
-Dan MacIntosh