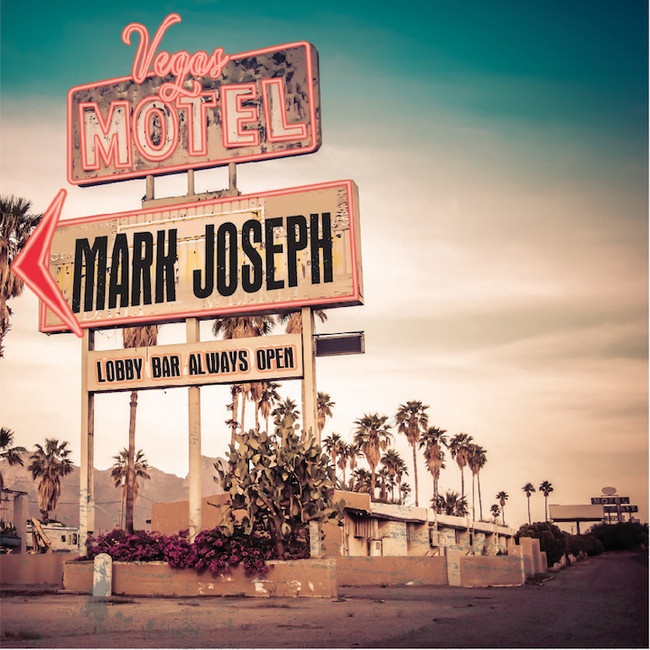 You can tell right away that Mark Joseph isn't living the high life during the title track to his "Vegas Motel" release. Las Vegas is famous for its lavish hotel resorts. Many of these maximum occupancies are like small cities. They intentionally make it so guests don't really need to leave their premises to get anything they could want of need. The aforementioned Vegas motel, however, is Joseph's "living hell," where he's sadly, tragically living out of a bottle. The song is sung over traditional country instrumentation, which foreshadows this album's sometimes diehard twangy sound. If your life is on the skids, and you find yourself in some fleabag establishment way off the strip, a few of these eight songs might be the appropriate soundtrack.
Thankfully, this album is not all slow, sad songs. For example, "Nate's Garage" revs it up as a country rocker. It also throws in another favorite country lyrical subject – patriotism. Even with its riffing electric guitar, though, some steel guitar also comes through in the song's mix. Another big topic of country songs is praise for working class heroes. Joseph raises his glass to one such praiseworthy worker on "The Life Of A Pipe Welder." It has an acoustic arrangement, however, and isn't nearly as country sounding as what comes before it or after it. It has a slightly herky-jerky arrangement that sounds a little like progressive rock band Jethro Tull. Granted, it's an exception to the album's style, but it's also a nice, brief change of pace. It eventually evolves into a Southern rock jam piece toward track's end.
Apple Single "I Love You Till' I Die":
https://music.apple.com/us/album/i-love-you-till-i-die-single/1572215741
One titled "Early Riser," offers up a bluegrassy instrumental, filled with a whole lot of wonderful acoustic instrumentation and picking. It also features some nice fiddle work. It's significantly different from what comes before and after, as well. Who says you can't fill an eight-song release with a lot a variety? Joseph certainly didn't get that memo. And if he did, he either ripped it up or avoided it entirely.
Continuing the variety parade, "I Love You Till I Die" is a midtempo soul song, augmented with a horn section and female backing vocalists. Its melody sounds a little bit like "Knockin' On Heaven's Door," but its subject matter is a whole lot happier than that. Although it includes electric piano, "Little Lucy" is more of a folk song than anything else, due to its acoustic guitar picking. It's a heartfelt love song directed at someone special.
The album closes with an atmospheric number titled "My Friend, Stella Blue." Although it opens with sonic atmospherics, it eventually turns into another fingerpicked acoustic song. It's a song about a special person that's passed on. Joseph sounds sad, yet appreciative of what this person meant to him.
https://www.instagram.com/markjosephmn/
Yes, Mark Joseph begins this album stuck in a Vegas Motel, but he doesn't stay there. Instead, he gets out and sees the world around him, which he describes with many different stylistic colors. There's lots of country and folk music on this album, although it's interspersed with a little bit of soul and bluegrass, as well. If variety is the spice of life, then this album is extra spicey.
-Dan MacIntosh