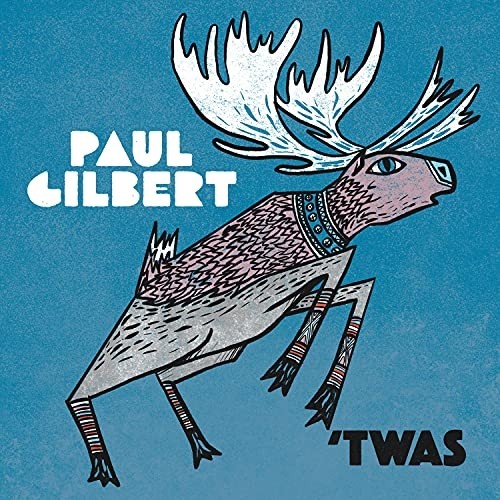 Following the time honored tradition of such guitar greats as The Ventures, Gary Hoey, Brian Setzer (and of course the Merry Axemas issues), Mr. Big and Racer X guitarist Paul Gilbert is releasing his 17th solo album which is a tribute to Christmas. The Ibanez Fireman guitarist said that jamming with friends on Christmas songs with his red, green, and white axes totally inspired him to do this instrumental release. Paul claims his guitars sing better than he does, but the last time I saw him at the Ernie Ball 50th Anniversary party, he sounded fine. His accomplices on this endeavor are jazz/blues musicians Dan Balmer on guitar, Clay Giberson on keyboards, Timmer Blakely on bass, and Jimi Bott on drums.
The album features his instrumental takes on the traditional seasonal classics. Let It Snow has a speed metal approach, and Frosty The Snowman is treated with a shredding intro and clever changing tempos. Hark! The Herald Angels Sing nicely slows the tempo down a bit, as does The Christmas Song. Rudolph The Red-Nosed Reindeer takes on a jazzy new look. I Saw Three Ships is given a "Grinch" type shuffle. Have Yourself A Merry Little Christmas is a great lesson in combining six string styles on one song. We Wish You A Merry Christmas is a jumpy cut that will help you speed up decorating the tree. Silver Bells starts out traditionally slow and then hits the gas. Winter Wonderland is complemented with a straight up jazz take. Paul has included two original holiday inspired tunes, Every Christmas Has Love (lyrics appear in the video), and Three Strings For Christmas. The Japanese release will include the original bonus track, Down The Chimney Blues. He does a nice homage to the season with these originals. The album release will also include lyrics to the instrumental tracks.
https://www.instagram.com/paulgilbert_official/
All of the top players have their nuances to discover and develop new sounds and different methods of delivering the material. Paul has always been a top notch guitarist regardless of the type of material he is playing. His takes on the holiday classics were inspired by great previous pop and rock versions he grew up listening to. He uses a double-neck guitar with one neck strung with three strings (tuned in octaves) strictly for speed, and the other with six. The song Three Strings For Christmas features this "Threesome" in action (Keith Richards uses five strings lol). I own virtually every Christmas rock issue (album or CD) available, and usually buy and gift some to family and friends. Every year I say enough is enough, but this one is a keeper. Thanks Paul. Now I need to add some of these to my gift list! Watch for videos popping up on You Tube.