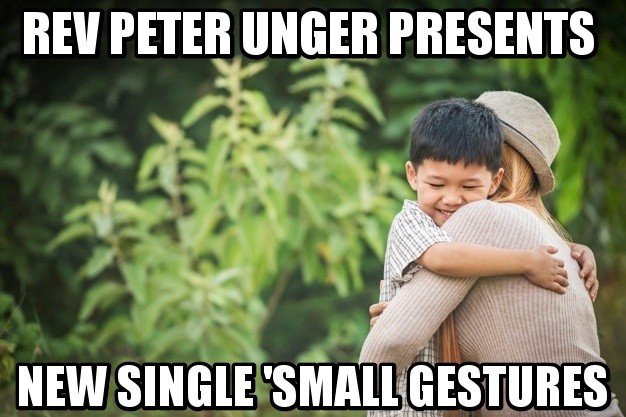 Rev Peter Unger is backed up by a wonderful, tender big folk band style with "Small Gestures". Lyrics have a lived-in presence to them, reflective of a life explored to the fullest. The focus on relationships, the way they slowly grow feels particularly deft. Nothing here is overlooked for the way that love works is through these significant gestures, the power that they bring to the world. Everything here comes directly from the heart, from experience, and it feels that way. Guitar work has a playful quality to it, cascading on downstairs in a most joyous fashion. Bass too adds its own two cents, for a grandeur exists within it one that has a vibrancy.
Peter Unger "Small Gestures"
https://www.reverbnation.com/revpeterunger/song/32941774-small-gestures-5
From the very first moment he wastes no time in getting the sound started. That initial impulse finds its way across the entirety of the journey. Little elements skitter about making sure that every moment has a deeply felt aspect behind it. An entire lifetime caring for and helping others appears over the course of the journey. Small fragments of narratives emerge, ones that create the small yet intimate moments that help a relationship grow. So much sunny optimism reigns supreme over the work for there is an exquisite beauty to it all, one that has a doubly refreshing aura about it.
"Small Gestures" revels in the kind compassionate cadence of Rev Peter Unger in delivery a soulful, soothing universe that wraps itself around the listener.