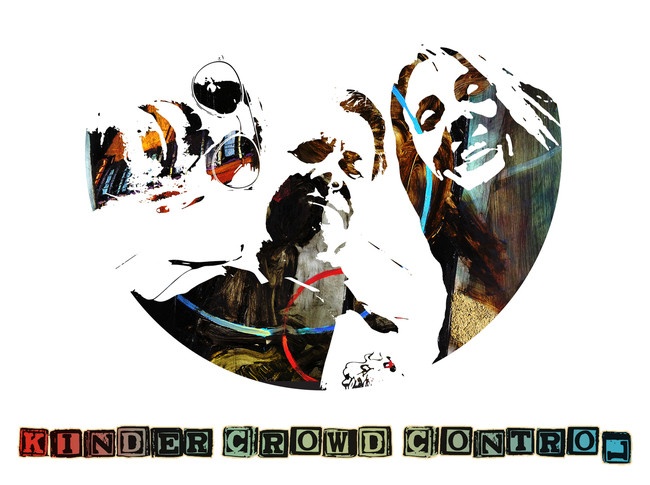 How are you feeling about this year's music you've put out so far? 

Edem:
 Fantastic. This year began with us releasing "Rhapsody in C19", a reaction to the ongoing mask mandates. Around March, BsquaredMGMT out of Nashville, Tennessee, heard our music, was wowed by it, and partnered with us. We have been releasing music on a steady basis since then. "Day Zero", "Eastside Western/ Remix/ReMaster", and "Sto Da Radim" followed. We're on fire. Brett and I always love our latest tracks. As we journey on, our ears, production techniques, and compositions become better and better. All the tracks are great; we're loving life. Check them out at 
kindercrowdcontrol.bandcamp.com
Brett: 
This year has been great. We've released some really cool stuff which is amazing because we've all been very busy. It helps that we've all been able to make the adjustments to working from home. With today's technology we've been able to send stuff back and forth online and at our own pace. Working from home has been less stressful with less traveling (we lose all the fun and adventure of being out but get back all that productive time).
The year is coming to an end! What are you doing in these last few months musically?
Edem: Well we're working on a 7 part opus initiated by our wordsmith extraordinaire, and celebrated Croatian artist, Sandra Ban. Usually Brett and I spark the compositions. At a certain point we send Sandra the concept, but not the music mind you, and she answers us with her pertinent words in the form of soundbites. We then incorporate these into the tracks, which then take on a whole new dimension. Amazing really. On this opus Brett and I are enjoying the role reversal of Sandra sending us her concept/parameters, and having us create the KinderCrowdControl music for it. So far we have finished one segment which we're releasing as a single. "Yes" will be out very soon. Crazy cool track. Check it out. The other 6 parts are well underway, and we have to finish them by the end of the year.
Brett: 
Nothing different. We keep blazing forward with more music. We've worked together for so long that we don't have to try hard to come up with something new. It just flows.
What are you working on right now in the studio?
Edem: See above. "Yes" is complete, as is another segment entitled "Djambe". The other 5 parts are well underway.
Brett: 
We just finished "Yes" and have released it for distribution. Be on the lookout! We have 6 other parts to Sandra's opus challenge we're working on. All of them in various stages of completion and depending on the flavor of the day.
What are your studio sessions looking like these days?
Edem: Our usual M.O. is that I write riffs which I record as "sketches". I then bounce these to Brett who works on his parts. He uses a variety of  instruments such as Chapman Stick, 4, 6, and 12 string bass, stand up electric bass and sampling, to name a few. We then arrange a time to get together. I record Brett and incorporate his input into the particular song. This, in turn, broadens the dimension of the particular tracks. Then we work with this new ensemble until we get to a certain point, at which time we alert Sandra to the concept and, as I mentioned above, she sends us her input. Really, our approach hasn't changed since we began KinderCrowdControl in 2011. Thank God for home recording, as we were not slowed down by the lockdowns of 2020. Our musical output increased as, despite travel bans, we were forced to focus our energies on accomplishing tasks in our homes/studios. Music being perfect in that it requires no walls or space for it to exist. The airwaves are still free.
Brett:
 Our studio is wherever we set up. It's 2021 and creating music has become as simple as composing/recording from a smartphone. Musical composition is so much bigger than verse-chorus-verse-chorus-bridge-chorus-end these days. Non-linear music, such as film scores, have made their way into many popular musical compositions and have changed the way the world listens to music. There's a massive frontier out there and we're just beginning to scratch the surface.
Is it just you when you go to record or do you work with others?
Edem: Brett, I, and Sandra are pretty self-contained these days. We cover a lot of bases with our diverse musical instrumentation. We have been fortunate to have worked with several very talented musicians though. My son Griffen is an excellent pianist and riff meister; Toby Karlin is a brilliant multi-instrumentalist and drummer; Thea Ulrich, a beautiful singer, who worked with us on several tracks. A huge thanks to all of them. The door is always open to collaborations with others, it's just a question of time and convenience.
Brett
: We really like working with others. After all, music is a medium that's meant to be shared. This ideology plays out on every front. Band of one is very uninteresting. Audience of one is very unfulfilling. Hence multiples of numbers work.
Who is the person that you want to work with next whether it's putting them on a track or just producing?
Edem: We are starting a project with Mitch Steele, our great friend, trusted ears, and producer of our first release "Selah". We are combining some of his tracks with our input. I'm sure it will be stellar.
Brett: 
Hard to say. We have many peers who'd be fun to work with. There are many more we'd like to meet.
How are you customizing your sound in your next tracks?
Edem: We're constantly improving our production. We know our music. It can travel many different paths. We never know how a track will turn out; it's an ongoing adventure. We serve the music. A great influence on my life and music was a man called Roland Young, who incidentally used to be the Art Director at A & M Records in Hollywood in the 70s and 80s. I studied under him during my time at the Art Center in Pasadena. His words are constantly in mind: No preconceptions.
Brett:
 Our music is definitely "custom". Right now, we have no outside interference trying to re-write what we do. It's truly original.
How do you make sure that you're customizing your overall vision for your music?
Edem: Our vision, both visually and musically, is organic and ever changing. We are true to ourselves and never follow anyone else's lead per se. This is a crucial lesson in today's world. We are aware of trends, but add our voice to the musical landscape, rather than parroting any particular style or sound. This is KinderCrowdControl's operational procedure. Being "hip-till-we-die" is the key. We focus on creating great vibes for the world, pure and simple. This will never change.
Brett: 
We've adopted a practice of patience with our work. It's human instinct to want to push out each release as fast as we can at the risk of missing something critical. We've also found that we don't want to hold things back for too long thereby self-inflicting analysis paralysis. It's said that Rome wasn't built in one day, but neither did the builders try to build Paris on top of it. As Artists, recognize that open space is beautiful too.
What is your overall vision for yourself!?
Edem: We created our umbrella KinderCrowdControl, as a malleable format. The name gives us great latitude with our music. This was our important first step. "Image first" as the great songstress Zhanna Aguzarova once told me. We are able to make great music in many different veins, whilst sounding completely like KinderCrowdControl. We let others try and categorize us.
Brett: 
We keep on truckin'. We're in the groove.
How are you leading with love with your music?
Edem: We are blessed to work with the beautiful Sandra Ban who, despite some heavy topics (as our music is topical), always replies with words of love and hope for humanity. This counterpoint is fantastic; dark and light dances. Together we create love-centric tapestries.
Brett:
 I don't think too deeply about that. I just do what I do and hope the listener gets something positive out of it.
Where can you be followed on social media?
Thanks for asking!
Here you go:
Spotify, Instagram, TikTok, Amazon and Apple Music: kindercrowdcontrol (remember, that's one word!)