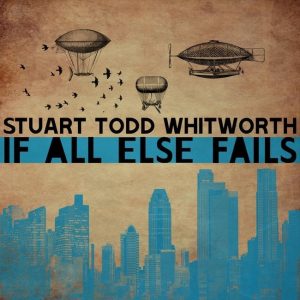 2021 has been an amazing year for singer/songwriters in the pop/rock genre, and if you ask most critics – myself included – they'll tell you that indie players like Stuart Todd Whitworth are the biggest reason why. After years of slaving away at the recording process, Whitworth delivers a watershed release in his new album If All Else Fails that, despite facing stiff competition from a litany of other records in the American underground this year, is attracting a lot of hype ahead of its official drop date. In If All Else Fails, pop melodies make merry with moderate rock grooves, often uniting in a hybridity that is both fresh and familiar to anyone who has been keeping up with contemporary beats in the last decade.
"Higher," the piano-clad "She Won't Be Mine," seductively progressive "Happy" and power ballad "Gone Away" together could have formed quite the intriguing extended play, but when joined with the other material on this LP, I think these songs stand out as the cornerstones of an identity-defining sound. Whitworth's multifaceted approach to songwriting arguably produces more agents of evocation than most listeners will know what to do with, but where some novice audiophiles might feel just a bit overwhelmed by the grandiosities of this disc, others – who can appreciate the complexities of a blunt pop hook – will likely regard these tracks as being some of the smartest indie content to make headlines in 2021. You can tell he's been refining his style for over a half-decade here, because while his execution is mostly seamless, his passion is jagged and authentically raw in all the right ways.
While the compositions can get a little complicated in All Else Fails, the production style utilized by Stuart Todd Whitworth in this most recent studio effort is anything but. The hard rocking "CJ Sleeps," "Rachel Speaks," barebones "Just Me" and cerebral "How to Heal" remind us that keeping it simple behind the soundboard can often yield far more endearing results than getting overzealous with bells and whistles ever could, while other songs like "Fugue No. 2 in C Minor" and "Prologue of a New Year" challenge the sonic depth of the studio environment with Whitworth's own compositional virtuosities, the best of which frequently come when we're least expecting to encounter them.
I had only heard a little of his work before now, but I would be lying if I said that I wasn't in love with the musical moxie Stuart Todd Whitworth is bringing to the table in If All Else Fails. Whether it be found in the folky sway of "One More Chance" or the climactic eruption of emotionality that is the title track, If All Else Fails sports a melodic intensity that I would normally expect out of classical music almost exclusively, and though it doesn't rewrite the rulebook for all of pop as we know it, I think this record has a chance to really change the game for Whitworth, who in my opinion has been flying under the radar of the mainstream for far too long now.
Gwen Waggoner