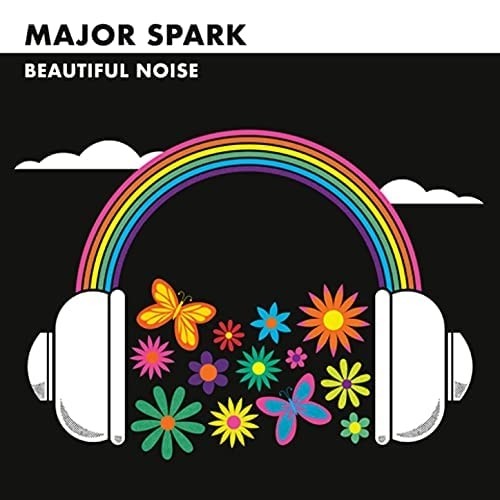 Major Spark is the perfect name for this band because right out of the gates, the energy is electric! This band is fronted by Mark Goodman, leader of '90s indie/alt rock band MAGNET and also includes Velvet Underground drummer Moe Tucker along with many other talented musicians contributing to 'Beautiful Noise'. This new release from Major Spark also features producer/multi-instrumentalist Brian Charles and vocalist Miranda Guiffrida. Sparks are flying everywhere on 'Beautiful Noise' and honestly hard to believe that this is a debut album for Major Spark due to the fine production overall.
The record starts up with a song called "I'm Not Gonna Stand Around" that has a garage rock feel to go along with a spunky attitude and edgy, pop punk sound. Next, get ready for a cool, dance beat on the title track, "Beautiful Noise", that has a very catchy hook & melody. Mark Goodman and Miranda Guiffrida confess to the audience that you "gotta believe in something" on "Beautiful Noise". Moving along, "Running from the Toxic Breeze" will have you heading in the right direction with an appealing sound and "toxic breeze" that feels so sweet. Next, "Rolling Waves" come crashing in with soothing notes & melodies sweeping over you. Time to switch gears and "Turn It Up" with one amped up song that will rev you up from start to finish. Track six, "Take The Record Down", provides a great sound & performance for all to enjoy. Prepare to make a fast dash for "The Finish Line" where the race is on and fun-filled vibes are running through your ears. Track eight, "Getting Stronger", displays mighty playing & singing that will give your eardrums a rock-solid workout. Enjoy a brisk pace on "Walk Away" and then go "Run Run Run" with catchy vocals brushing past you that will be trekking through your mind all day long. Major Spark ends on a high note with "Deal With It" that will give the listener a jolt of excitement while leaving a lasting impression.
In the end, I am very impressed with the efforts from Major Spark on 'Beautiful Noise' and would say a successful debut indeed! I really like the style that Major Spark conveys and the originality factor is sky high. Mark Goodman and his talented bunch of musicians are truly making 'Beautiful Noise' that can be enjoyed and appreciated by many. It is very true that music comes in all shapes and sizes and it's safe to say that this new release from Major Spark offers up an array of layers & dimensions. 'Beautiful Noise' will entice your musical palette and will have you craving more. So, I hope you will feed US more soon Major Spark and keep making 'Beautiful Noise'. Let the sparks fly!
By Jimmy Rae