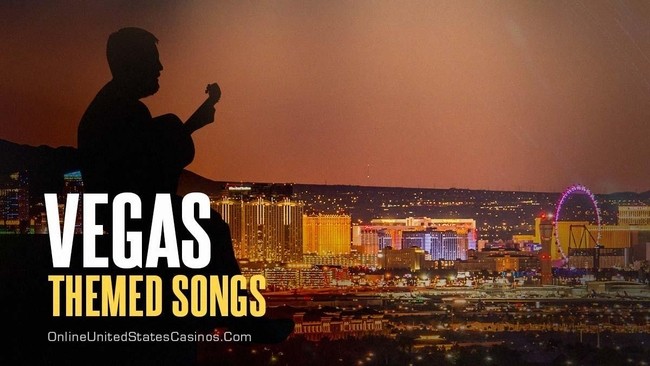 The 'City That Never Sleeps' attributes its name to the vibrant nightlife that takes over once dusk sets. From the immersive club experience to the fascinating casinos, Las Vegas truly is an attraction for its diverse clientele. Also, the MGM Grand Garden Arena is famous for hosting the Billboard Music Awards that pay homage to various musical artists.

With a diversity of activities in place, it's no wonder a variety of songs have come up that acknowledge the city's presence. Some express the euphoria of landing the jackpot and feeling great, while others—let's say, not everyone leaves a winner. So what are you waiting for? Check out some of the iconic songs that talk about the spoils the 'City of Light' has to offer.
– Sara Bareilles  – Vegas
The mantra 'trying to make it' is best captured by Sara Bareilles' second track off her debut studio album 'Little Voice.' Her first Billboard 200-charting album reached number seven in 2008 and spent more than a year on the charts.

Despite the song drawing from the sadness of forging ahead to accomplish your dreams, Sara's melodic voice gives the song another edge than a sob story.
– Elvis Presley – Night Life
If you're up for enthralling nighttime, the 'King of Rock' n' Roll's' Night Life will surely rile you. The track was for the 1963 musical film Viva Las Vegas, but fans had to wait until 1968 on 'Elvis Sings Flaming Star.'
The occasionally out-of-control guitar and laidback lounge band excite things as you enjoy your time. As a plus, this song is perfect for enjoying while playing Vegas casino games, courtesy of the dynamic tempo it creates as you spin the reels or deal with your deck.
– Clubstrophobia –  Vegas
How a tune from the Bergen region of Norway could perfectly capture the hearts of revelers in a city thousands of miles away is anybody's guess. Better yet, the captivating music video was given a nomination for the 'Best Music Video' by the British Animation Awards for its electrifying and perfect execution.
– Faith Hill – Let's Go To Vegas
Nothing brings out 'country' than a 1995 Faith gyrating in skin-tight PVC pants and a white tee—similar to the video for the authentic country tune about impromptu marriage. Let's Go To Vegas features an upbeat tempo, and the track charted at number 5 on Hot Country Songs that year. 
– B-52 – Queen Of Las Vegas
Gambling addiction has its romance, at least when it pairs with a dose of drum beats and a punchy synthesizer. That's what you'll get when you hop onto B-52's Queen of Las Vegas. Cindy Wilson and Co. come up with this enchanting track that'll keep you in good spirits. The song kicked off their 1983 album 'Whammy' together with the David-Byrne-produced 'Mesopotamia.'
– Gram Parsons – Ooh Las Vegas
An epitome of Parsons 'Cosmic American Music', Ooh Las Vegas highlights the distress of a poor man gambling. If you were to pair Parsons' fascinating lyrics—Queen of Spades is a friend of mine—with Al Perkins' pedal steel skills, you'll have one of the best tunes about Las Vegas you could wish for.
– Cocteau Twins – Heaven or Las Vegas
Heaven or Las Vegas stands out as the most commercially successful album for the band. Though Elizabeth Fraser comes up with an enigmatic track title, the Twins still manage to focus on the alluring nature of a city isolated in the desert.
– AC/DC – Sin City
There's an adage that says all AC/DC's songs sound the same. Though the statement may be true, that does not imply that their distinct sound isn't top tier. Sin City is an intriguing catch that fuses Bon Scott's gutsy vocals with an exciting pseudo-solo from bassist Cliff Williams.
– Sheryl Crow – Leaving Las Vegas
We go back to before the 'Tuesday Night Music Club' became famous thanks to 'All We Want.' Sheryl Crow's debut single, Leaving Las Vegas, reached number 60 on the Hot 100 in 1994, introducing us to her talent. The autobiographical tune details a tough stretch in the famous Nevada capital. What is not known, however, is whether it's about Crow or O'Brien.
– Barry Manilow – Here's to Las Vegas
Barry has been one of the prominent show headliners in Las Vegas, and this anthem is a portrayal of his love for the city—considering it's been hosting his performances for more than a decade.
– Keep The Fun Going With Vegas Themed Songs
The 'City Under The Sun' is truly a remarkable place for anyone who wishes to experience fun. The many songs by various artists capturing the city in a positive light only add to the allure. So, dive through the above themes, and get your playlist that'll leave you bobbing your head.    
Author Bio
Hi! I'm Bryan, and I'm a passionate & expert writer with more than five years of experience. I have written about various topics such as product descriptions, travel, cryptocurrencies, and online gaming in my writing journey. The latter is one of my favorite topics, and you can find some of my premium casino content at OUSC.