If your job involves writing, you likely require a reliable laptop you can use even when you're away from the office. As a student or a blogger, laptops ensure you can keep working on your writing projects even when you're on the move.
Writing is a lucrative career, and more writers are working with this writing company or the other. Associating yourself with a professional company allows you to access suitable projects that pay well and ensure you enjoy what you do for a living.
So, are you in the market for a new laptop? Do you have a rough idea of how much you are willing to spend on a new machine? The laptop you purchase should make your work easier. For instance, if you enjoy working outdoors, you need a machine with a long battery life. This way, you won't have to worry about recharging the machine every few hours.
When you know what you're looking for, you won't be overwhelmed by the many options available in the market. Many bloggers and writers feel confused when shopping for a new machine because they don't know what would be best for their job.
Imagine being a blogger who also enjoys gaming, but you end up purchasing a machine that doesn't support most of the gaming software you're used to. Whether you need compatibility with specific pieces of software, portability, or long battery life, ensure you bear this in mind when you're shopping for your new laptop.
Continue reading for the best budget laptops available in the market today.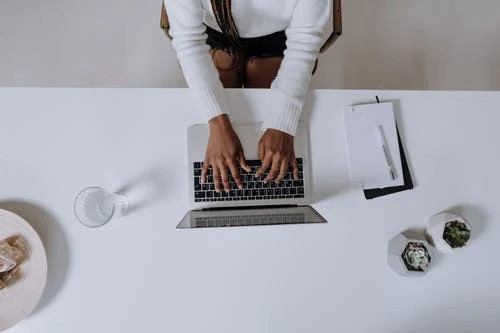 Source: Pixels
Acer Chromebook
If what you want is the best laptop under $200, then Acer Chromebook is the machine to put your money on. This laptop is at the top of our list because it's the cheapest laptop that comes with all the features a blogger would need in a machine.
Acer Chromebook may not be a power-packed machine, but it will get the job done. Here are the features this baby comes with:
A 14-inch screen

12 hours of battery life

4 GB RAM

32 GB of storage

A 1.6GHZ processor

Weighs

3.42 pounds
While the machine does not come with that much storage space, you can always store your data in the cloud. Besides, storing data in the cloud saves you from the eventualities of a hard disk crash. This machine runs on Google OS, so you can expect seamless browsing for all your articles that require extensive research.
Asus Zen book
Next up, we have a more expensive laptop that's worth every cent you pay because of the advanced features it comes with. Some of the features that make the Asus Zen Book worth your money include:
A 13.3-inch screen

1 TB hard drive

8 GB RAM

An Intel i5 Core processor
The Asus Zen Book also comes with a backlit keyboard that boosts your typing experience. Moreover, the 12-hour battery life allows you to work for the entire day without worrying about recharging your machine. And since this laptop weighs 2.6 pounds, you can easily carry it around without feeling its weight.
Microsoft Surface Book
If you wouldn't mind spending more money on your next machine, you should consider purchasing the Microsoft Surface Book. This laptop comes with a pre-installed Windows 10, which saves you from the hassle of setting up your machine before you begin to use it.
Here are the features that make this machine worthwhile:
A 13.5-inch pixel sense display

8 GB RAM

An intel i5 Core Processor

128 GB storage

12-hour battery life
This machine comes with a keyboard that disconnects from the screen, allowing you to use it as a tablet. In a way, you get a two for one deal when you purchase this machine.
Lenovo ThinkPad T460
This is a dream laptop for many writers because of its 12–18-hour battery life. In case you're working on your first-ever novel, this machine would allow your ideas to flow without any distractions. Besides, the fact that it weighs 3.8 pounds allows you to punch on the keyword with the machine on your lap when you're on the train or in the park. Every time an idea strikes, you can type it down before you forget.
Dell Inspiron
Next, we have Dell Inspiron which is another great laptop for writers who don't want to spend too much on their next machine. Features you can expect when you purchase this machine include:
A 13.3-inch full DD LED touchscreen

An Intel i7 Core Processor

8 GB RAM

256 GB hard disk

Windows 10 OS
Acer Aspire E15
Do you enjoy using a machine with a large display screen? How would you like a laptop with a 15.6-inch full HD screen? This would be the perfect laptop for bloggers who enjoy watching movies during their free time.
Other features this machine packs include:
An Intel i6 Core processor

8 GB RAM

An in-built 256 GB SSD

Weighs 5.27 pounds
Did you know, Acer Aspire E15 also has 2 GB of RAM dedicated to graphics? So, your viewing experience is guaranteed to be satisfactory.
MacBook Air
If you're prioritizing portability, MacBook Air is the laptop to purchase. While it's an expensive machine, it's definitely worth it because a laptop that weighs 2.03 pounds would be quite easy to carry around. If you're a travelling blogger, this machine would make your adventures more fun because carrying it around won't feel like a burden.
MacBook Air's other features include:
A 13.3-inch display

An Intel i5 Core Processor

8 GB RAM
128 GB SSD
12-hours battery life
HP Pavilion
HP Pavilion is the best laptop for writers under $500. It is suitable for writers who need a lot of storage for their work. It also comes with an in-built Windows 10 Operating system that allows you to jump right into working as soon as you purchase it.
Other features to expect on this machine include:
An Intel i7 Core Processor

8 GB RAM

1TB hard drive

9-hours battery life

15.6 full HD screen
Wrapping Up
There you have it, a selection of eight budget-friendly laptops suitable for writers and bloggers. Ensure you take the time to pick a machine that will meet your needs.