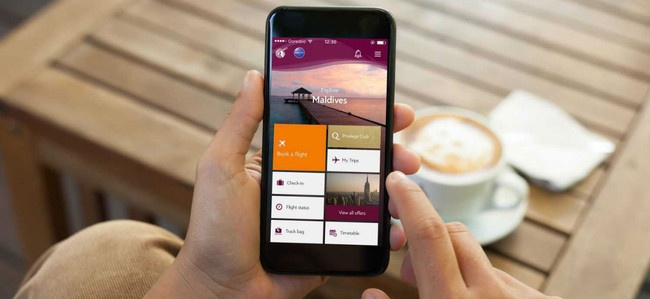 In an ever-competitive market, Airlines are under pressure to service their customers with greater convenience and ease. Although many airport-based mobile applications (Apps) are popular, travellers are increasingly opting for the mobile App of the particular airline they are travelling on.
Below we feature three of the leading global airlines that deliver great journeys with the help of an Airline Mobile App for Travel:
Etihad Airways
Etihad Airways is all about offering its passengers the most supreme of journeys and the Etihad Airways Mobile App for Travel provides a host of features for its valued passengers.
To commence your journey users can quickly search for destinations across the wide map of the airline list and find the best deals. Users can then quickly and efficiently pay for their journey and confirm their booking.
In addition to booking the flight the Etihad Airways Mobile App for Travel provides users the opportunity to check in virtually having saved your boarding pass onto the App and also use the in-built seat maps, so you always score the seat you love.
Etihad Guest frequent flyer members can check their balance and also control their membership details here. If your destination is Abu Dhabi, users of this App will also love the complimentary interactive city maps, sure to get you moving around like a local in no time.
App users are eligible for a discount of 20% for excess baggage and in the run up to and on the day of your important flight, the App will keep you up to date with any status notifications about your departure and guide you to be at the airport well in time so you can enjoy browsing the app after a short check in.
Qatar Airways
The Qatar Airways Mobile App for Travel is a dynamic mobile App that
makes travelling the world more convenient. One of the key differences of this App is that users can also book lounges to access, register for meet and greet services and also purchase excess baggage as required.
This App also helps users to book a hotel or rent a car as well. With the Qatar Airways Mobile Airline Travel App, users can take full control of their journey and direct from any device, begin their journey with over 160 destinations to book.
Having selected your destination, users can purchase all types of tickets directly through this App and also claim Qmiles as well if you are a member of the frequent flyer programme.
App users can also point their camera at your passport to further simplify the booking process as well. This App accepts a range of payment methods and users can also hold their booking for up to 72 hours until they get their payment sorted.
The App's My Trip App Development Feature helps users to keep track of all the stages of their journey including notifications about any flight changes. Using this feature, users can also change their meal preferences, select a seat, manage excess baggage and the whole booking as well.
App users can also save their boarding passes and check in via the App
and then simply use the fast-bag-drop facility at the airport after arriving.  Users can also access maps of the terminal and visa information for your destination as well.
In case your bags get delayed App users can track the process of their bag in the App and also access special App Only offers as well with great deals. If you are a member of Qatar Airways Privilege Club frequent flyer programme, you can also access and manage your membership details including checking, calculating and redeeming miles as well. 
South African Airways
The South African Airways Mobile Airline Travel App offers users a world class flight experience that begins on the ground. Users of this App can check flights, make and manage bookings, check in for a particular flight and also access all the information you need about your destination as well.
From start to end, the South African Airways Mobile App Developer helps passengers make their journey easy and simple. Using this App, users can browse and make flight bookings, view and manage bookings and check the status and schedule of the flight as well.
One clear benefit is that App users can check in directly for their flight via their devices, saving time at the airport. Members of the Voyager frequent flyer programme can also view and manage their membership details through this App here.
Conclusion
Advances in aviation related Android App Development means that it's now far more simpler to make your booking, check in and be in touch with your chosen airline through its very own Mobile Airline Travel App. Get  downloading and start flying!