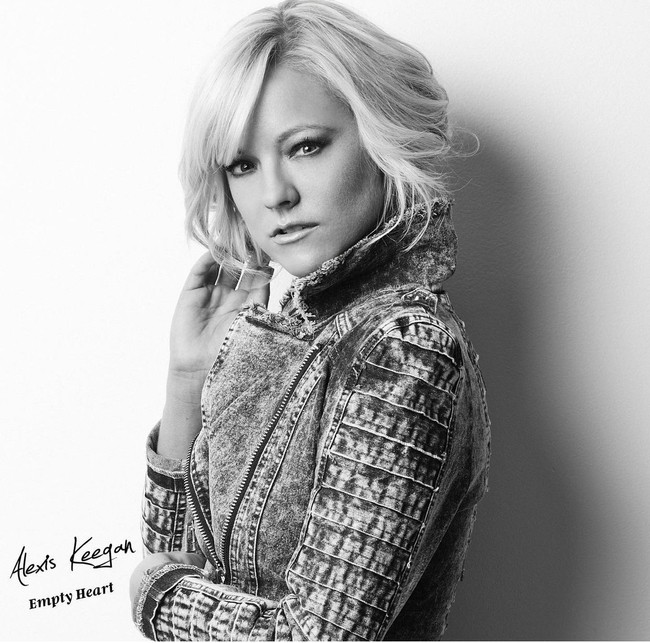 Showing great range and even more personality, Alexis Keegan brings her A-game to the table in her new three-song EP Empty Heart. It's a rare thing to hear such different songs and still be equally connected to such a grounded artist. Keegan delivers a dance-worthy pop hit with the same gusto as she does with a more intimate, slower ballad. She's authentic and real. Reminding me of a cross between Lady Gaga and Miranda Lambert, Keegan's confident vocals in Empty Heart prove she's an artist to watch. 
FACEBOOK: https://www.facebook.com/AlexisKeeganMusic
The title track is a rousing mix of piano and what appears to sound like a drum machine. I liked the give-and-take from the instrumentation. The music bed is sharp, but still flows in a way that feels very natural to Keegan's gifted vocals. Her voice tenor has just enough grit to it that she should sing a country tune, but sways over to the pop side. I like the hue in her voice – it's like she has a tinge of smoky plume filling the air when her harmonies linger. "Empty Heart" has a charming tempo and this song communicated to me an artist with self-worth. Sung from the perspective and idea that just because you're alone, doesn't mean you are truly lonely. I think the words come from being in a relationship that she wasn't truly loved. Her heart felt empty with this person. Despite the heavy themes, I felt like this song was empowering and focused. She has this 'can do' attitude about her; Keegan is looking forward, never back. 
"Be Love" blew me away. I wasn't expecting this song to sound the way it did after hearing "Empty Heart". Keegan delivers a knockout vocal performance – drawing the listener further and further into a deep emotive connection. The trickling acoustic guitar, just below her voice for the majority of the songs, peaks just ever-so-slightly in key moments. You can't quite hear the guitar neck squeak or break, but Keegan's vocals flutter in-and-out of the strings like a bouncing butterfly. Just after the song's bridge, a somewhat murky violin plays. It's not quite somber, but very settled. The strings are like an epiphany…a realization that all is what is meant to be. That love is bigger than the two people in the song. 
ANGHAMI: https://play.anghami.com/song/1023968835
The last song, "I'd Rather Be Your Girl" goes in yet another musical direction. This one has some spunk, a bit of a snarl to the rhythm. This is the song that gave me the Lambert-vocal vibes. Truth be told, I did go back and forth between Lambert or even Jennifer Lopez tones. "I'd Rather Be Your Girl" is the go-to for the pop radio fans. It's got a great groove and Keegan once again immediately establishes rapport with the listener. You might find yourself stopping what you're doing to listen to her voice. This song gave me more reasons to think of Keegan as 'what you see is what you get' kind of artist. She's a woman with a voice, and a mind that knows what she wants. 
Colin Jordan