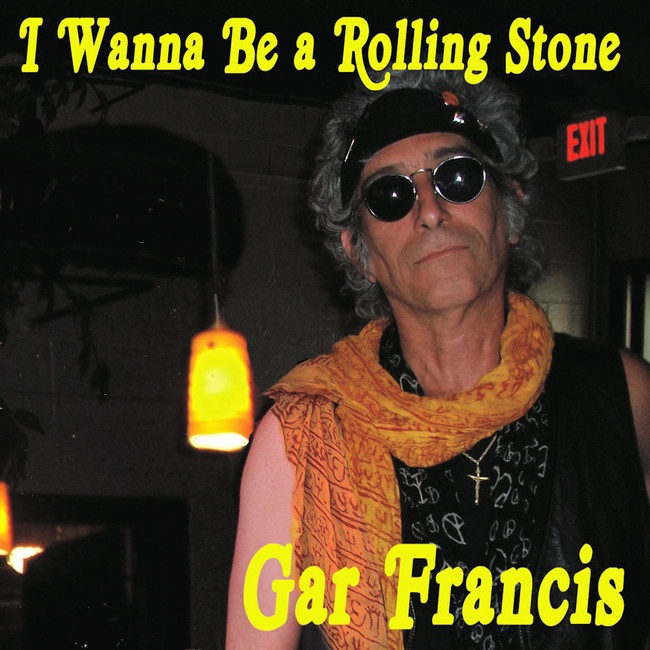 Gar Francis has quite the musical background that dates back to the 60s. Gar has played with many bands throughout the years and still does to this day. These bands include: Rockids, Ricochet, Plainfield Slim & The Groundhawgs, The Satisfactors, New Bardots and The DOUGHBOYS. And fittingly enough, Gar even played as Keith Richards in Rolling Stones Tribute band Sticky Fingers (The World's Greatest Rock and Roll Tribute Band). This makes sense to me based on this new single by Gar Francis and also for the fact that I heard a heavy Keith Richards influence right out of the gates!
This latest release by Gar Francis titled "I Wanna Be A Rolling Stone" was released June of 2021 and has that true rock spirit. Gar Francis does not steer away from the roots of rock 'n' roll on this new single while whaling away on his guitar. The lineup for "I Wanna Be A Rolling Stone" includes:
Gar Francis on vocals and guitars, Dan Caruso on bass, Kurt Reil on drums, Arne Wendt on Piano and Organ and Genya Ravan on Background vocals.
As a whole unit, these talented musicians delivered an outstanding performance that would even be worthy of Wayne and Garth's ("Wayne's World") approval as they shout "ROCK ON Gar!" Nothing complicated about "I Wanna Be A Rolling Stone"; just straight up rock and roll with no gimmicks. Gar Francis offers no BS and rather just high-quality, raw-sounding music at its finest. "I Wanna Be A Rolling Stone" has that classic, cool touch that never grows old and I have a feeling Keith Richards himself would even give a thumbs up to Gar's efforts here.
Gar Francis is a multi-dimensional songwriter, guitarist and producer and he proves without a shadow of a doubt that "I Wanna Be A Rolling Stone" is more than just a song. It's a way of life, it's spirit, it's heart and it's everything that Gar Francis brings to the table on the new single. Feel free to SKOPE out "I Wanna Be A Rolling Stone" right here: https://bongoboyrecords.hearnow.com/garfrancis and also find it on all major streaming platforms. In the words of Wayne and Garth, ROCK ON Gar, ROCK ON!
https://twitter.com/garfrancis
https://www.facebook.com/garfrancis
https://en.wikipedia.org/wiki/Gar_Francis
https://bongoboyrecords.com/garfrancis/
By Jimmy Rae (https://skopemag.com/?s=Jimmy+Rae)