Legendary English punk rocker, Steve Lake of Zounds, teams up with American opera singer, Mia Dean, in a multidimensional art project. Blood Moon Wedding is an American nightmare, a road trip of horrors through a twisted, alternate reality. Set in the sprawling deserts of the United States, Steve and Mia find themselves trapped in a shadow world, where death and love are the only way through the gates of space and time. Exploring themes of mass murder, gun violence, and trauma bonding, Blood Moon Wedding is a dramatic commentary on the violence in American society.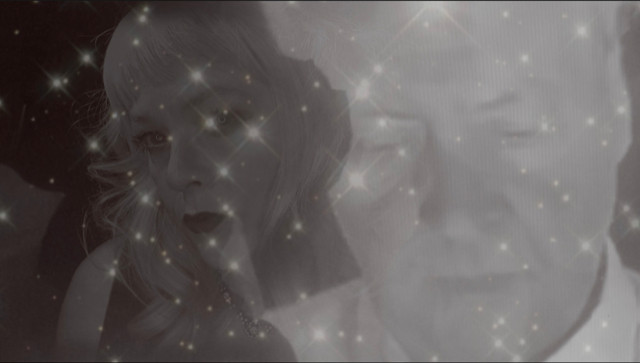 Steve Lake is member of the influential English alt-rock group Zounds. He has recorded for many great labels including Rough Trade, PIAS, Cooking Vinyl and Crass Records. Steve still tours regularly, both as a solo artist and with his group.
Steve's work is expansive and experimental. Beyond Zounds, he has produced and performed a number of spoken-word and multimedia events throughout Europe, including the Edinburgh Festival. Regarded as one of punk rocks most empathetic voices, Steve is a poet of the people and author of the book Zounds Demystified (AK Press).
Mia Dean is a writer and singer for the Oakland band Antler Family. She studied classical opera and performance in San Francisco with the great Metropolitan Opera mezzo-soprano, Blanche Thebom, and abroad. She sang opera on the stages of Italy and Austria before returning to California to focus on composition and production.
Mia is the co-founder of the venue the Oakland Metro Operahouse, where she met Steve in 2017 when Zounds was headlining Manic Relapse Fest. Well known primarily as a great punk and metal venue, the Oakland Metro Operahouse is also an award-winning experimental opera company for which she has produced many operas, including The Turn of the Screw(B.Britten), Les Enfants Terribles (P.Glass), and The Rise and Fall of the City of Mahagonny (Brecht/Weil) for which she also co-wrote an updated libretto, The Hoodslam Opera.
"This is exciting, dangerous music." –Alice Teeple, post-punkdotcom, May 26, 2021
"Hot Blood in the Sun is a musical trailer for our upcoming record and film Blood Moon Wedding. It is a separate composition designed with two concepts in mind. The first being we would create a piece that didn't require the rest of our band, the second that it would introduce our collaboration and express where we are coming from."
"Hot Blood in the Sun" features TSOL's Jack Grisham as the narrator, was mixed by Skot Brown of Phantom Limbs and Alter de Fey in Oakland, and filmed in California and at Rockaway Park in Somerset, UK.
Blood Moon Wedding is a themed album of dramatic songs, atmospheric soundscapes and magical-realist spoken word. It was written and performed by Mia and Steve in California and the West of England. Mia Dean & Steve Lake are supported by Jason Willer of Jello Biafra and the Guantanamo School of Medicine, Charger, Cross Stitch Eyes, The Mob, Alaric on drums, and Oakland composer Tom Dean on synths.