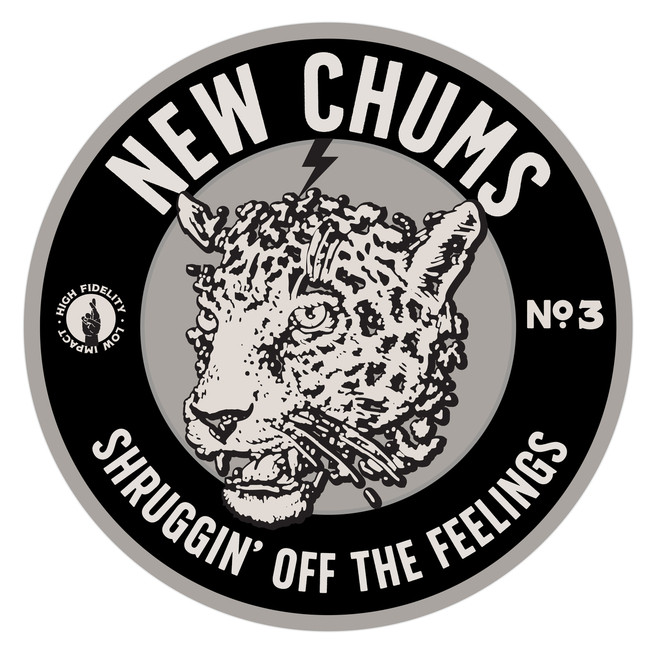 The New Chums call their new, five-song EP Shruggin' Off The Feelings, and then spend the whole 17 minutes of the project singing about their feelings. Then again, shrugging off feelings is much easier said than done. Without expressed feelings, there would be no pop music, after all. Objective music might please, say, mathematicians, but for most of us, music is a vehicle to express our emotions, whether we create the music or sing along with a favorite song. No feelings were shrugged off in the making of this album.
This act is from Phoenix, AZ, and describe themselves as an indie rock band. These five songs are all melodic guitar rockers. Although there is much aggressiveness contained within, such strength never ever sacrifices clear melodies. Maybe the act was inspired by punk rock, as are almost all honest modern rock groups these days, but they certainly don't sound punk.
Most of these tracks are fast and propelled by charging electric guitar riffs. One obvious exception is "Trade The Market," which is – although not a ballad – at least slower paced than the rest of the project. The vocal is sad and sincere, and the electric guitars chime in – as with the rest of the songs – only much more gently on this one. It sounds a tad like early Radiohead, before that group discovered electronic music. There is also a touch of the Smiths mixed into this sonic stew.
https://www.instagram.com/newchums/
Album closer, "Don't You Know I Know," is bit New Wave-y, with its clipped electric guitar part. Lyrically, it's a sad commentary on a relationship. What becomes of a relationship when one partner knows the other partner's secrets? For starters, all trust is lost. The protagonist in this song knows things, but his partner doesn't even realize he knows these things. It's one thing to be a cheater. It's quite another thing to be a cheater that thinks he/she is getting away with something, but in reality, is not successful in this deception.
Like all the other tracks on this release, "4 On 1's" employs well arranged electric guitars. Rather than just playing simplistic riffs, these guitars add tasty fills from beginning to end. When guitar backings are this skillful, it's a true treat for the ears.
The single, "The Ride," begins with a moody, clipped guitar part, before diving into a full-bodied and chunky guitar riff. The sonic goes from quieter verses to louder choruses. It's effective way to arrange songs.
When a band like New Chums come along and proves once again how production doesn't need to be fancy to be good, it gives one hope for the future of rock & roll. Listening to some modern recordings reminds me of that old Dolly Parton joke, where she says she spends a lot of money to look this cheap. Similarly, a lot of contemporary acts spend a lot of money in the studio, only to come off sounding bored and uninspired. Not so with New Chums. They have allowed the studio to capture their undeniable love of pure rock & roll.
-Dan MacIntosh