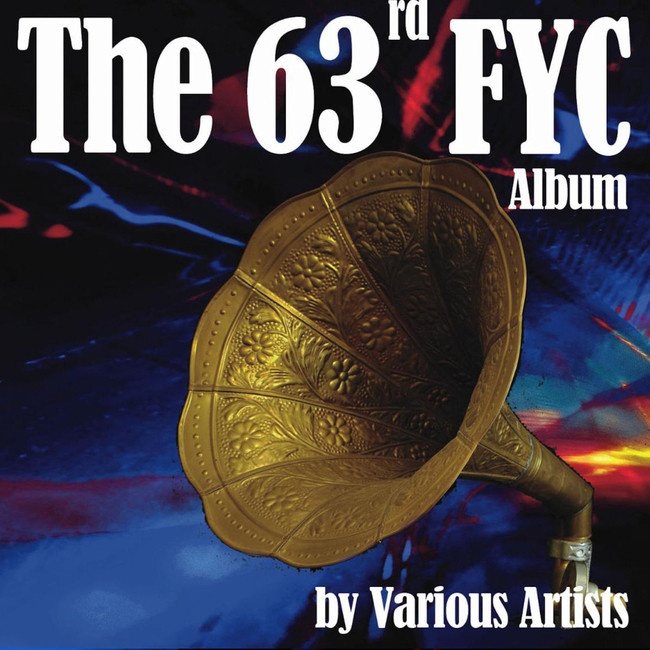 Featuring the music of independent artists that were accepted by the Recording Academy™ 1st voting ballot for consideration for the 63rd Grammy Awards®.
A fiery blistering guitar solo opens up Fiction Syxx's undeniably decadent "Bleed For The Truth". Everything about the track possesses such urgency. Nods to Type O Negative's industrial gothic approach dominate much of the work.
Big Bone Daddy embraces a southern fried rock blues with "Promised Land". Volume is a must for theirs is a force of nature sound. Guitar and vocals intertwine to create this cascading, careening effect that is easy to get lost in.
The insistent piano sets the tone on Frank Trousdell's soulful "Dust In The Western Sky". Building itself up into a frenzy there is a sense of joy that radiates on throughout the whole of the piece. Layer upon layer comes into the fray further adding to the dramatic sensibility.
Updating a classic sound, Zupe and The Polka Commandos go for a communal presence with "Na zdrowie! Polka (Nostrovia!)". Deep in the track they go for a lovely, lilting presence. Accordion sounds faster and the tempo flies on by with gleeful abandon.
Distortion rules over the epic sprawl of Oblivea's "Watch the Fall". Everything within the piece has its own sense of dignity behind it. Quite a heavy piece they sound akin to plate shifts in the Earth's surface due in part to the colossal undertaking.
Official Website: https://bongoboyrecords.com/the63rdfyc/
Wild with an acid spaghetti western twang Annemarie Picerno & Bob McGilpin's "Money Pain" has a feral presence about it. The song's bluesy affect adds to the sense of the surreal, as there is a meditative aspect to the track. Layers emerge further adding to the yearning presence.
"Holding Onto Nothing but Love" has a ambience about it, one full of love that fully displays Diana Dilee Maher's powerful seductive voice. A clever mixture of traditional and modern influences, there is a unique quality to the way she lets it unspool. Usage of tactile percussion adds to the intimacy of the overall track.
Muscular, driving rhythms anchor skinsNbones "Forever On". A classic rock adventurous quality propels the track forward. His voice has a lived-in quality to it, for the lyrics come straight from the very soul.
Piano introduces the drunken honky-tonk of Big Bone Daddy's "Let's Go Back". Yellowed with nostalgia, the yearning for the past has a kindness to it. With their impeccable storytelling there is a gentleness to the way they let the song evolve.
Herman Rodriguez presents a sense of peace with "Beautiful Stranger". Sung with such passion, the affection that runs through it helps to define it. The balance here is the real key for he makes sure each element absolutely radiates warmth.
Undeniable chops on the guitar frame David LaDuke's unhinged "Psychedelic Sandwich". Aptly named, there is a mixture of psychedelic, industrial, noise rock, and more into this singular whole. Rhythms are pushed to the breaking point while the vocalist sounds like a possessed Elvis.
Full of bright sun, Sharon Katz & The Peace Train offer up a small slice of kindness on the lovely "The Time Is Right Today". This piece contains multitudes as the song veers off into a sense of true happiness. Everything about it has an intimate presence about it, full of such vigor.
Johnny & the Mongrels waste no time on the swagger of "Louisiana Girl". The massive sound has a living, breathing presence to it. Instruments weave in and out further adding to the truly cinematic scope of the music.
Studeo deliver a wonderful vacation-like track on the swirling splendor of "Cabo San Lucas". Never rushing things, they let it all take its time in getting situated to result in a vastly colorful approach. Their vocals further add to this peaceful demeanor.
Annemarie Picerno "Thank You" offers a bit of beauty that enters into the equation. Guitars have a glistening aura about them. By far though the highlight comes from the poetic lyrics that seemingly cascade on down.
Truly spellbinding, Kamini Natarajan & Oleg Smirnov sculpt a serene mixture with "Om Tare". Highly contemplative, they bring together dub, drone, and ambient into a sparkling sound. Best of all their sense of melody helps to give further emotional heft to the piece.
Frank Trousdell goes for a tender, folksy Americana on "Bushline Sniper". Here his storytelling is unparalleled for there is a sense of history that brings the whole of the work together. From the gradual increase of tension to the vivid detail, all of it has a realness to it.
Sprawling and ambitious "All My Time" shows off Big Bone Daddy's undeniable stage presence. There is an optimism that rises up throughout the entire piece. Vocals here have a grace to them, with the harmonica a deft backup singer of sorts.
Done with such power "Love and Family Polka" features Zupe and The Polka Commandos has a great sense of community about it. Their character development they show throughout features their very real eye for detail. Full of such cheer it is hard not to get swept away in it all.
Oblivea ends the collection off on a high note on the chaotic tortured din of "Awakened". Pure unhinged power races forward for there is a truly disorienting experience. Everything is brought to the breaking point with nothing ever letting up.
DISC 1
1. Fiction Syxx – Bleed For The Truth 4:04
2. Big Bone Daddy – Promised Land 4:12
3. Frank Trousdell – Dust In The Western Sky 3:27
4. Zupe and The Polka Commandos – Na zdrowie! Polka (Nostrovia!) 3:28
5. Oblivea – Watch The Fall 3:35
6. Annemarie Picerno and Bob McGilpin – Money Pain 3:35
7. Diana Dilee Maher – Holding Onto Nothing But Love 3:06
8. skinsNbones – Forever On 3:57
9. Big Bone Daddy – Let's Go Back 3:24
10. Herman Rodriguez – Beautiful Stranger 2:57
DISC 2
11. David LaDuke – Psychedelic Sandwich 2:46
12. Sharon Katz & The Peace Train – The Time Is Right Today 3:52
13. Johnny & The Mongrels – Louisiana Girl 4:51
14. Studeo – Cabo San Lucas 3:38
15. Annemarie Picerno – Thank You 3:44
16. Kamini Natarajan & Oleg Smirnov – Om Tare 3:10
17. Frank Trousdell – Bushline Sniper 3:45
18. Big Bone Daddy – All My Time 5:04
19. Zupe and The Polka Commandos – Love and Family Polka 3:21
20. Oblivea – Awakened 3:18