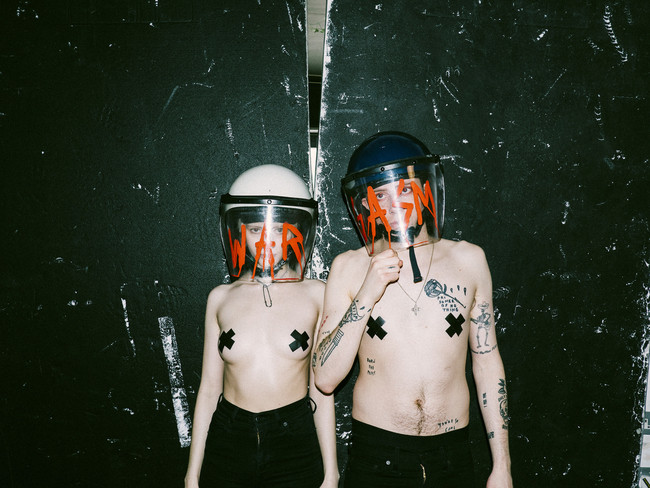 WARGASM release their latest single "YOUR PATRON SAINTS" accompanied by visuals for the arresting track – out now.
Listen to YOUR PATRON SAINTS – https://songwhip.com/wargasm-uk/your-patron-saints
Written by Milkie Way and Sam Matlock, the provocative track explores limbo, loneliness and the need to have an outlet. The visuals, made in collaboration with photographer and visual artist Haris Nukem give us an insight into the unapologetic minds of WARGASM. Speaking on the track the duo explain:
"I am Jack's cold sweat // I am the patron saint of disappointment.
The song was born in the middle of a small breakdown in a supermarket earlier this year. Every single one of us has been living in this weird limbo state for just over a year now; the incessant cycling of loneliness, loss, apathy, self discovery and monotony build and build and build until you feel like you're going to burst. This is our release, our prayer, it's cathartic. You don't always know what every song you write means at first, but the important thing is that you write it.
One thing we do know, shit is definitely out of control."
The single release comes alongside the announcement of their biggest headline show to date at Camden's Underworld. The show will take place on 10th September. Full on-sale available from Monday. Tickets will be available from ticketmaster.co.uk.
The band is formed by Irish international model Milkie Way and Sam Matlock, a D.I.Y veteran. WARGASM is the encounter between two strong personalities that can be compared to fighting fire with fire. They met at a concert in Camden at the beginnings of 2019 and after that day, something special and magical was born. 2020 saw the bands track 'God of War' become the official theme song for WWE's NXT UK. Just over a year old WARGASM fans include Yungblud and Hayley Williams and have received praise from NME, Revolver, Upset and more.