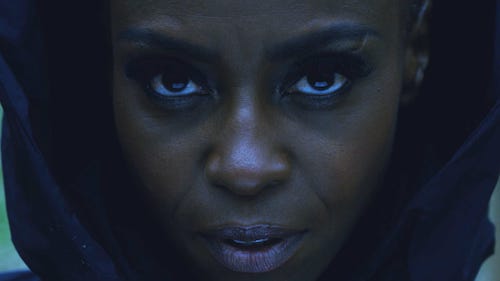 The new single is about "a family falling apart", perhaps Skye's gloriously unruffled vocal tone means some people don't catch the darkness in lyrics like "Ain't gonna lie / Feel like I wanna die", there's plenty of hurt that walks with the hope when Skye sings over Ross inventive arrangements. This lyrical darkness is well depicted by the dark and cinematic video accompanying the single.
– http://morcheeba.lnk.to/blackestblue
Pioneers of the British music scene, 'Blackest Blue' will be the band's 10th studio album in a discography that spans three decades. 2020 saw Morcheeba unable to tour or perform live, which gave Skye Edwards and Ross Godfrey "time to write songs and really get to hone them," as Godfrey puts it. "There weren't so many pressures so we could really take our time getting the songs right," adds Edwards.

The result of this time is a refined 10 track album that fuses previous incarnations and sound of the band – such as downbeat, chill, electro-pop and soul – into one cohesive record that delves into the soul of the band's genre-mashing musical heritage. As usual, the band didn't approach the album with any pre-conceptions, and instead created an organic journey that represents everything great about Morcheeba.
Morcheeba's global reach is impressive, taking them to every corner of the world . Their signature chilled electronic/organic sound has been border-hopping ever since the London-based band emerged as a household name. The past year has been one of introspection for the duo, as they take stock of their renewed global fan base and look forward to being able to play the new album live in the not too distant future. "This was the first time since I was a teenager that I'd spent a year off the road and I enjoyed the tranquility, although I missed playing my guitar in far off lands," says Godfrey.