Erick Duran Manard is an award-winning studio artist, a one-man band, who recently released a debut music album called Odd Symmetry. He has composed many music tracks but Odd Symmetry is the first-ever complete album. The goal of the album is to entertain music lovers of every kind. It is appealing, relatable, and inspirational on many levels. With the word award-winning, you can guess he is a talented lyricist and multi-instrumentalist. He played all desired musical instruments and sang all required vocals in all songs on the record by himself; hence, he is literally a one-man-band.
"For my music, I write and arrange, play all instruments, sing all vocals, record, mix and master all my own tracks, and produce my compositions without other players or engineers."
Odd Symmetry! What a unique name, don't you think? We asked Erick about the title of his music album, and according to him, the word symmetry points to a sense of harmonious and beautiful proportion and balance that works itself out in this universe behind the scenes where God dwells and providentially operates. If we look around ourselves and spiritually observe, we can see that all of God's creation displays symmetry, and that is what it makes life so beautifully jagged. In other words, symmetry is something that gives us inner peace and satisfaction in knowing that a power beyond ourselves exists and cares. Erick said he found peace composing this album; hence the title was so inspired to reflect that 'calm in the chaos,' an underlying theme woven throughout the album. "Through the making of this record, I've discovered there is a definite symmetric calm to be found within life's unpredictable chaos, an Odd Symmetry," said Erick.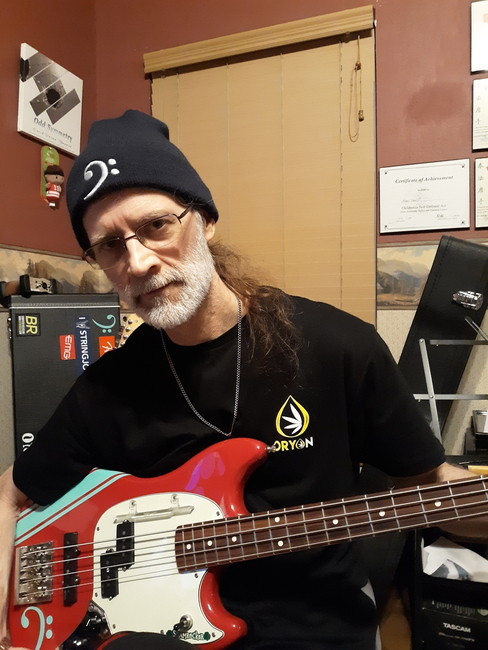 Another reason for making this album, and finding peace while composing it, is the most recent experience of his in battling a life-threatening illness that left Erick debilitated and near death. The reality is that Erick has been near death three times, one by car wreck, another by stroke, and the most recent was in June 2020 when he suffered from Pancreatitis. Erick shared that he is 'three times lucky'–or affectionately 3XL'–to be alive after such a disastrous disease. The experience helps him have more faith in God. After getting cured, he found the strength to make music again, and  the renewed faith in God which gives him calmness amidst the inevitable chaos and stressors of life.
Erick has had the passion to create music since his childhood, especially eclectic music. His father was also fond of music as he had an extensive collection of 45s and LP Vinyls as well as artists ranging from Nazareth to Neil Diamond. The family's love for music enhanced Erick's desire to follow a musical trajectory, and allowed him to choose music production as a career. He plays rock, particularly Eclectic Indie-Prog Rock. He also plays contemporary Christian music covers in the weekly live sessions in his church band.
Every artist in the industry develops motivation from some influencing artist. The same goes for Erick. When asked about the artists most influential for his music creation, he replied:
"My influences depend on which period of life. In my 20s, I was influenced by Iron Maiden, Judas Priest, Megadeth, AC/DC, Testament, Helloween, Fates Warning, and the like. I was selfish, pretentious, and obsessed with the 'crunch' and didn't duly regard melody or nuance. I've found that less is usually more, but in my younger days, I played like more is more. That's a very counterproductive and constrictive view of music. But my palette for music has expanded with age. Overall, I appreciate so many musical elements simultaneously."
Official Artist Site: www.ErickDuranManard.com
To listen to his whole music album, you can visit the Apple Music website here.