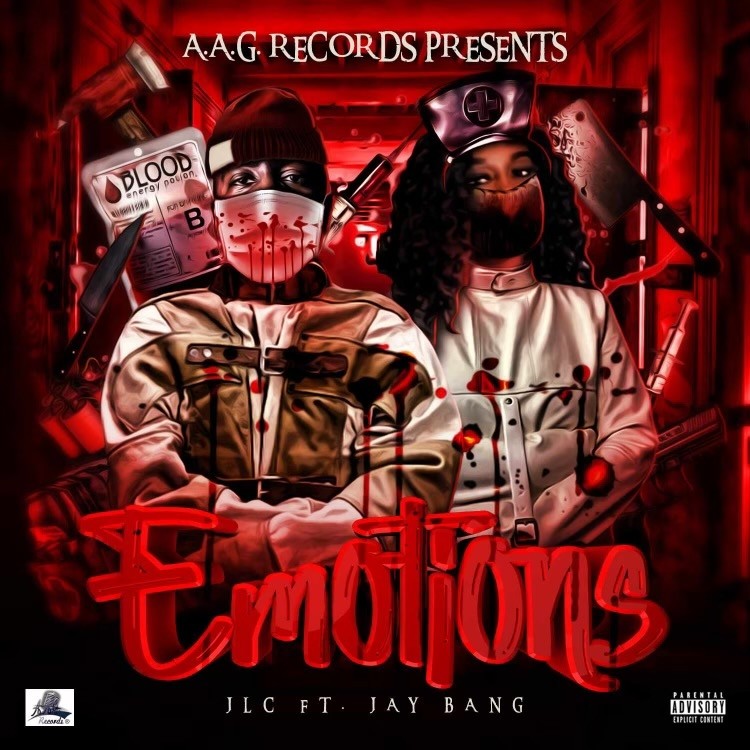 Poetic value is never limited to lyrics in good hip-hop, and this narrative is fearlessly reinforced in the new single "Emotions" from JLC. Backed by Jay Bang, JLC unleashes a brutally honest and unquestionably expressive jam in "Emotions" this spring that refutes the very notion of solid rap being singularly linguistic; on the contrary, songs like this one establish that in order to really win over an audience in the hip-hop genre, otherwise simple elements like finding the right rhythm and the perfect point of tonal communication are made essential when concocting what could be the next chart-topping sensation.
INSTAGRAM: https://www.instagram.com/jlcaagrecords/
The vocal exchange we get between JLC and Jay Bang here is awesome from top to bottom, and it successfully eliminates any negative space that might have been leftover on the backend (especially given the lack of overindulgence from the bassline and the percussion the same). There's nothing quite as bad as two talented rappers cutting it up in front of a dismal, non-textured groove, but this is clearly something that was already on the minds of this pair well before they ever got into the studio to produce "Emotions." Whether natural or learned, these guys know what they're doing.
JLC's lyrical wit suggests an ability to be passionate about a story he has to share, and even the feelings that rise to the surface when tells it, without drifting into emo territory as so many others' have in recent times. There's a lot of heart in what he's putting on the line for us in "Emotions," as one could appropriately assume just by looking at the title of this song, but it's never to such an extent that he winds up sounding self-righteous or cut off from relating to the audience (which is another problem a run into among some of the brightest and hardest-hitting young names in hip-hop).
There's no artificial spitfire flow to be found in this single, so if you came looking for a 69-style celebration of auto-tune, you'd better keep moving. "Emotions" presents us with a JLC who seemingly has no desire to abandon the natural skill he's used to get this far in life simply in hopes of fitting in with someone else's model. I have a feeling he's going to do just fine commercially without having to sellout any of his compositional ideals, which isn't always the case in this industry at all.
AMAZON: https://www.amazon.com/Emotions-feat-Jay-Bang-Explicit/dp/B08RXJHM38
Progressively-stylized but easily as hard as anything you'd find in the old school, JLC's "Emotions" is straight fire that you need to be taking seriously this year. There's an intensity in this piece that demonstrates just how ready JLC is to break off a sophomore album, and provided the track gets into steady rotation on the college radio dial sometime between now and the conclusion of summer, my gut tells me this rapper is going to be enjoying an elevated profile on the strength of his latest studio sessions before 2021 has come to an end. I'll be looking out for more of his music, and I'd recommend other hip-hop fans do the same.
Gwen Waggoner