Produced by Black Rose Beatz : From Hiway's album "Damaged Goods" Available now on all platforms
After writing and producing the the song "Top Floor" with Tech N9ne, California rapper and rising star started planning the video, filmed on location in Kansas City, MO, and directed by Mel Mojares.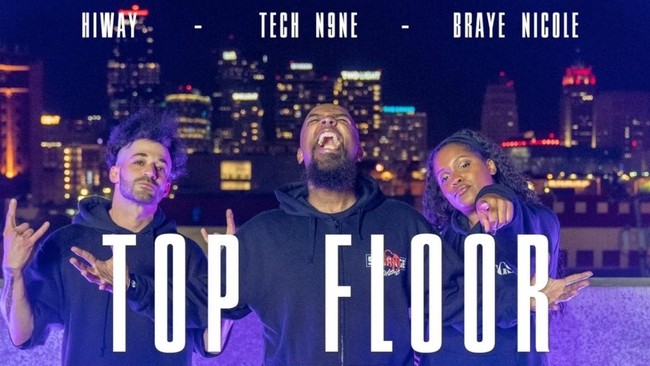 "With such a big name attached, it would've been a disservice to not have visuals for the track. I worked out the date with Strange Music and began scouting locations in Tech's hometown, Kansas City, Missouri. I worked with a parking garage coordinator and ended up renting out the Corrigan Station Garage in downtown. This was a chance to not only get myself a look, but my whole team as well. In the middle of the pandemic in mid September 2020, I flew us all out to Kansas City. We rented the highest quality camera equipment we could find, and had it mailed to us out there. I wanted to make sure my father (who passed away unexpectedly in 2019) was represented in it somehow, so I wore his shoes during the shoot as a tribute. We wanted to visually capture the state of our country, between the pandemic and the BLM movement, so we all wore masks and all-black outfits. It was just as much social commentary as it was a personal achievement. We shot the video in one night, mailed back the equipment, and flew back to California two days later."
Hiway is a hip hop artist and the latest rising star coming in hot from Northern California. Born in the Bay Area during the time when cocaine swept the nation, Hiway's immediate family was hit hard. When he was just five years old, his mother hit rock bottom and abandoned the home, leaving his father to raise him and his younger sister alone until their adulthood. Having been homeless, Hiway's father moved his two children to Humboldt County, California in hopes to rebuild. Hiway's father was also a drummer, composer, and music engineer, which set in motion his own dreams of being an artist. At a young age, he would sit in for local rappers' studio sessions at his house, ingraining the process in him early on. Around middle school Hiway began writing his own songs, making beats, and recording. He worked relentlessly through high school. After graduating, he started recording on a 4-track recorder, teaching him the value of breath control, punching in, delivery and song format. While this was happening, he was also proving his hunger by doing posterwork for bigger artists to earn him slots on big shows. As practice, he made six mixtapes with the 4-track recorder and put them out for free. After he felt he out-grew that method, he started recording at an actual studio, paying per hour, which taught him to work diligently.
He released his first official studio album, "Roadside Assistance" in 2013. One song from the album played in the background of a viral twerk video, landing his music on World Star Hip Hop, and subsequently on TMZ. This resulted in him being invited to perform at the 2015 Gathering Of The Juggalos. It brought some attention to the rapper, but wasn't the type of push to propel him into fame. Hiway's rap style has always been very technical, lyric-driven, and his concepts a little outside of what was mainstream. being true to himself as an artist also meant having to take the "scenic route" in the game. Still, Hiway kept working on his craft. He released a highly conceptual double album, "Disgruntled Employee's Association" in 2016, which simply went right past people's radar. It was around 2018 when Hiway decided to relax his style a bit, and create music free of the typical underground rapper angst. In 2019 he released his album, "The Carpool" which really marked his ability to showcase himself at his most natural. However, less than a week after releasing the album, his father passed away unexpectedly, which ultimately halted its promotion and sent it to obscurity. This wasn't the end though. Hiway began building an album in the aftermath of his father and grandfather's passing (only five months apart) while the pandemic also took over. This allowed for his most honest work to date, and on January 8th, 2021 he released "Damaged Goods". The album includes Hiway's highest-profile feature yet, Tech N9ne, which he made in honor of his late father.
The collaboration, entitled "Top Floor" also featuring Braye Nicole, has been met with a broad and supportive new audience. "Damaged Goods" is by far his most popular and critically-acclaimed project to date. Fans have been calling it a masterpiece in fact. What sets Hiway apart from the vast ocean of artists is his skill of creating distinctive vibes for the listener to cling to. He can make high-energy, aggressive songs, and also heartfelt songs that move the audience. He also has a social awareness, and is not afraid to touch on sensitive subject matter. He draws from many kinds of artists and eras, has a deep understanding of the hip hop culture, and bridges the sonic gaps between "old school" and "new school".
To date Hiway has shared the stage with many legendary acts, including Bone Thugs N Harmony, Slaughterhouse, Tech N9ne, Funkadelic, Dead Prez, Dogg Pound, Afroman, and even Cheech and Chong, to name a few. He has been devoted to a solo career, but also makes up one fourth of the group, The Gas Station (TGS), which includes equally impressive artists Doe The Unknown, Benjamin Brandon and Aye That's Dope. With every obstacle Hiway has had to face, his fanbase has always gradually grown. People are starting to catch on, and it is only going up from here.