We delve into the second studio album 'If This Is The End' from UK band Project Blackbird. The band consists of Ming Nagel (vocals), Jon Read (flugelhorn, trumpet, keyboards, backing vocals), Jamie Varley (bass guitar, keyboards, backing vocals) and Alan Roberts (guitars). In Project Blackbird's own words on the album: "It is at turns bittersweet, unsettling, reflective, hopeful, and hopefully uplifting." Let's take a closer look…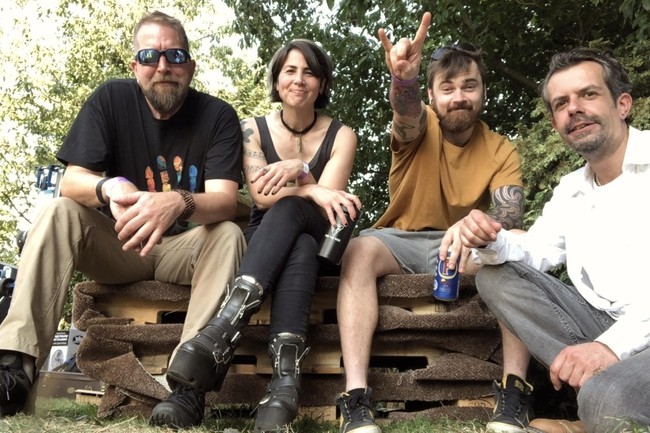 There is something so very soothing about the album's opening track, with gorgeous layers of guitar, synth pads and a mellow rhythm section, complete with what sounds like banjos. Put this together with singer Ming's captivating vocal and you have something truly special indeed. Not to mention the work of carefully placed backing vocals which adds yet more texture and warmth to the track. This wonderful mesh of electric and analogue is an utter joy, and will be carried on throughout the album.
'Baby Giant' took us all by surprise with its dreamy and other-wordly sonic textures. When the song breaks into the groove, the vocal delivery remains experimental, and resembles spoken poetry more than it does singing. We realise that Ming is a true wordsmith as well as a versatile vocalist. 'Murmuration' has elements of Dido in the vocal and also Björk, while the musical arrangement has traces of The Smiths and Dire Straits.
The fifth track 'The Handle of the Spade', is a sensational rich hybrid of string, guitar and vocal with a rhythm section gluing it together, when it joins in towards the end. What's more, the refrain 'This is how it ends' is so fitting for the album's theme and title. 'Shake These Trees' features Lynval Golding, rhythm guitarist and vocalist of The Specials. This is an uplifting track with funk-tinged rhythm that is sure to get you moving. The choruses are super feel-good as the arrangement opens up with some luscious sustained backing vocals and invites you to join.
We love 'The Archivist', a moment of calm within the album… this is a soul-warming instrumental with a brilliant horn arrangement. 'Ava My Love' is a sweet 80s-tinged pop track with choral-style vocal on the chorus and a distorted guitar sound. 'Speed of Sound' has a film noir quality to it, sounding like something from a suspense-fuelled piece of cinema. The verses are full of tension partly due to the atmospheric guitar melodies and refinement in the arrangement. There is also something very Bowie-esque about this (Black Star album in particular).
The album's final track 'Let Love' is a glorious close to an extraordinary collection of thirteen songs. The full beauty of Ming's voice and the words sung are the focal point, and we are left to ponder on a multitude of life's questions… Take a listen for yourself.
Project Blackbird's second studio album 'If This Is The End' is available now to stream & download on the major digital platforms. You can also purchase physical copies via their Bandcamp page.
Watch the video for 'Laissons Cela Entre Nous' here: https://www.youtube.com/watch?v=NelhmznQC0o