On March 12, internationally renowned Renaissance rock band Blackmore's Night, featuring Ritchie Blackmore, Candice Night and their band of minstrels, are proud to release their latest album, Nature's Light. Their first new album in six years, and eleventh studio album overall, Nature's Light will be released via earMUSIC (distributed by BFD / The Orchard).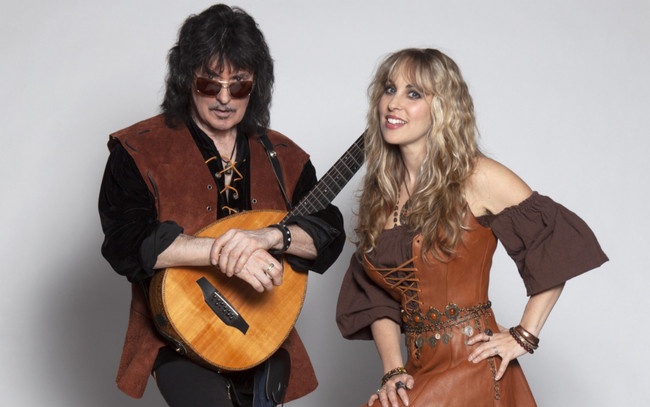 The new single and music video 'Nature's Light' is the title track taken from their upcoming studio of the same name, due for release on March 12th, 2021. According to Ritchie Blackmore, 'Nature's Light' is dedicated to the unique magic of renaissance faires. "I heard something that was a similar kind of melody, so I took that melody and gave it to Candice.", he describes the inception of the song. "I said, 'This represents people going to a faire, a very ceremonial thing, with the King and Queen coming through.' and it needed to have the bombastic pageantry of celebration. A regal announcement that royalty was coming to town." Blackmore's Night have without a doubt succeeded in evoking the traditional bombast of medieval compositions. And, like the royalty coming to town in the song's story, 'Nature's Light' is now available for immediate
Streaming and Download :
https://blackmoresnight.lnk.to/NaturesLight_Single
Their brand-new album Nature's Light will become available on a wide range of formats and can be pre-ordered here:
https://blackmoresnight.lnk.to/NaturesLight
Having achieved international success, with several gold records and a global track record of sold-out performances, Blackmore's Night have crafted a 20+ year legacy of merging medieval melodies with rock elements, initially evidenced on Ritchie Blackmore's groundbreaking work with Deep Purple and Rainbow.
Singer/songwriter/multi-instrumentalist Candice Night seamlessly blends her ethereal vocals and lyrics, along with a command of numerous classic woodwinds. With Blackmore traversing all matter of six-string instruments, from acoustic and electric guitar to mandolin, mandolas, hurdy gurdy, and nyckelharpa, the result is a unique listening experience.