Sons of Raphael – the duo of brothers Loral and Ronnel Raphael – have announced their debut album Full-Throated Messianic Homage is set for release May 21 via Because Music (see: Christine and the Queens, Shygirl, Metronomy). It is an album seven years in the making, beginning its life in London before being mixed by the late audio legend Phillipe Zdar (Phoenix, Beastie Boys, Cat Power) at Motorbass in Paris – a transformative experience for both the brothers and the music itself. Full-Throated Messianic Homage is an album that teeters on the brink of mythology and madness, one that almost never came to fruition after the band bet the entire recording budget on a single game of basketball. The album is an endless futuristic wall of sound built on classical orchestral arrangements contrasted with fuzz machines and modular synthesizers. Beneath this inviting exterior is a debut which is a four-part hymn to life, death, sin, love and resurrection.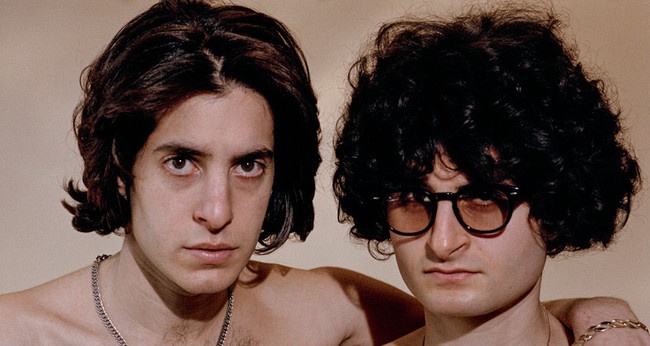 The announcement is accompanied by the release of album opener "Revolution", paired with a characteristically cinematic video directed by W.I.Z. (Smashing Pumpkins, Chemical Brothers, Massive Attack). "Revolution" is a song that exemplifies the duo's aesthetic: melodic songwriting combined with a lyrical complexity tackling the divine and the spiritual. Shot on film, just as the band's previous videos "Siren Music" and "He Who Makes The Morning Darkness," the video is awash with religious symbolism and iconography. "The wild horse of revolution is called for as we try to liberate ourselves from a future morally-oppressive society 'where killers and messiahs are identical twins,'" state the band. "As it is written in The Book of Proverbs: 'A friend loves at all times but a brother is born to help when trouble comes'; this is the nerve centre of our new music video for 'Revolution'. It captures 'how good and how pleasant it is when brothers dwell together in unity.'"
Full-Throated Messianic Homage is an album that, like its creators, refuses to take any half measures. It's a record that deals with the consequences of when angels and devils duel, culminating in the life-affirming power that music can have.
Pre-order/Pre-save Full-Throated Messianic Homage – https://sonsofraphael.lnk.to/FTMH