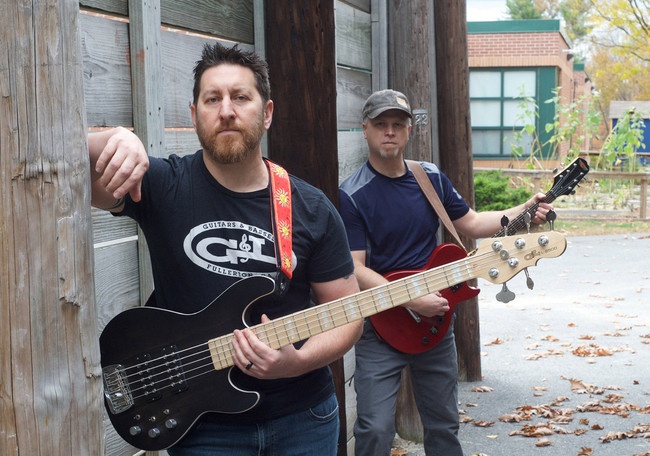 We hope you are in a good mood like we are today. March 20th is the first day of spring and if you live in a cold weather area that is so nice. Beyond that, the music keeps flowing here @skopemag so lets jump right in. Today we have hooked up with some fellow Boston musicians that go by the Jack Prost Band. The songs are all written and played by JP, and produced and engineered by Scott Glorioso. Today we are here to celebrate the release of their album 'My Way' and the single 'Octavate'. Join us today as we chat with JP about everything from Boston's live scene post covid, influences in music, music saturation, and so much more, enjoy!
@skopemag: Where are we talking from today and are you happy to see the weather getting warmer in Boston?
JPB: I'm here in the beautiful little town of Littleton. Yes, the weather always does this to us. We get a beautiful weekend… followed by a Friday snowstorm. But I love the four seasons in New England, and wouldn't want to live anywhere else in the world.
@skopemag: I am based around Boston as well. What do you miss most about the live music scene that was destroyed by COVID-19?
JPB: The energy. When you're watching live music, a magical energy surrounds everything within earshot. This energy is catalyzed by the music itself, but is propelled and boosted by those that hear it, feel it, and move with it. Even if it's background music, the jazz behind your brunch at Bob's or The Wonderbar, there is an elevation of vibes that is unspeakable. On the flip side, when I'm on stage with my band, and I AM the song, and the crowd feels it and gives it back, there is no feeling that can be compared. It's the energy. The energy. The energy.
@skopemag: Offer us how growing up in and around Boston led you to music and did your friends and family support your path?
JPB: My uncle was in a band called Willow that once opened for Aerosmith. He'd always been an inspiration to me. He recently passed away, and left me his two Gibson SGs which were used on some of the recording of "My Way". I know that he was with me when these were recorded. You can see one of them in a pretty cool shot at the end of my video for "Get to High Ground" on YouTube.
Going to school in Boston allowed me to seep myself in the music scene. My band "Common Senseless" was gigging at least once a week in the late 90's, and my family and friends were there to help pack the bars. Living the life of a starving artist in the Boston music scene in my early twenties was an amazing experience. I was a microcosm rock star. My parents are huge music fans too, from Led Zeppelin to Dave Matthews… And they love Jack Prost Band. Or maybe they're just being nice?
@skopemag: What two artists or bands had the most influence on you and can we hear that in your music today?
JPB: Def Leppard get me to think deeply about rock music. They were the catalyst to me learning to play stringed instruments. There were so many interesting melodies going on in Def Leppard songs. Intros, riffs, mini-solos, millions of vocal tracks, breaks… They brought so many elements to their songs. Yes, I know that Mutt Lange's production had a lot to do with this. In any case, my wife and I were at the R&R HOF to see them (and The Cure and Radiohead) get inducted a couple of years ago. Great experience.
Pearl Jam is another huge influence. While their older stuff is my favorite, I love how they have evolved, and their sound is still unmistakable. I once called into a radio show and spoke to Eddie Vedder. When he asked me where I was calling from and I told him "Bentley College," he sang me a jingle. "College Boy. College Boy. Playin with your college toys." Yes. Eddie Vedder wrote me a song. So, I have that going for me.
https://www.facebook.com/jackprostband
@skopemag: How much time per week do you devote to music for playing & promoting?
JPB: Lately I've been promoting more than playing because I have a bunch of finished demos that are ready for production. And I have no gigs to practice for. Once covid runs its disgusting course, we will be back in the practice studio getting ready for playing live. Either way, I spend about equal time in my home studio writing, re-tracking, and re-re-tracking. I spend at least three hours a day on music – and I have a primary career in technology that takes another 8-14.
I'm also the host of a radio show in Boston called Harmonic Headspace. That's been taking a bit of my time as well. Promoting the show and building a good show with the right discussions and songs takes more time than I'd thought. Unlike lots of other radio shows, our show is focused on the music. My co-host Astro (Rich Astorino) is a musical genius. He knows more about Rock and Roll bands, songs, producers, lyrics, than anyone in the universe, and he displays it every show.
@skopemag: You have a new album 'My Way' and singles out now. How long has these projects been in the works and how has the response been?
JPB: The My Way album is a bunch of songs from an incredibly broad time period. Some were from riffs that never went anywhere from common senseless. Some were from a 4 track recorder that I threw ideas on in the 2000s. Octavate was written in the early 2000s. It's an ode to my best friend that passed away from melanoma in '99 (he was 24). He made me promise that I would be smart with money and not "Bank it away". You never know when your last day will be, and spending money on experiences with the people you love MUST be the plan.
The response? Better than I could have imagined. We've received a lot of press coverage, a lot of people listening, and a lot of great feedback from people all over the world. We are hoping that a label picks us up and helps us evolve to the next level. Fingers crossed.
@skopemag: Do you plan to create a music video for 'Sigh' and if so how will that look visually?
JPB: There is no plan for a video for Sigh at this time, but if there was, it would probably be along the lines of "Get to High Ground". I like using real video imagery to show the lyrical content, while showing the band rocking out. I see other bands in dark rooms with cool lighting… It looks professional, but not memorable. I want people to feel what I'm saying. My lyrics are important, and usually meaningful. Also, professional videos aren't cheap.
@skopemag: How and when did you and Scott Glorioso realize you had musical synergy and wanted to create music together?
JPB: I first met Scott watching his cover band play at a bar nearby, so I knew right away that we liked the same kind of music. His band does an incredible Stone In Love by Journey. I learned that we live in the same town, produces his own music, and helps the school system with production of their concerts. When he heard some of my demos, he offered to produce a couple of songs for free to see how they came out. Free production? I really couldn't lose.
Side note – the drummer for Scott's band, Shawn Valle, is the lead singer in my other band, "Octavate" and he is amazing.
The first song we did was called "Highway Home", and it was okay. I was not ready to let Scott sing my stuff yet, and it was not easy getting him to see my vision of what I wanted it to be. He is not as much a fan as LOUD-ass distortion as I am, so there were some holes that were not completely filled. But it was fun, so we decided to try another. This time we tried "My Way". I had originally kind of rapped the lyrics, an ode to Rage Against the Machine. We agreed to do a version with him singing instead. This one came out great. Give it a listen and tell us what you think.
Working with a producer is a constant learning experience. Since it's me paying for it, I can still steer the song in the direction of my vision. But I've learned to trust him and his ideas. And I'm having him sing almost everything. He is as good of a singer as he is a producer. A lot of the compliments we get are for the singing specifically. We've revisited "Highway Home" with him singing, and it's going to be our next release. Scott has become a huge part of what was once a solo project. It's now more of a partnership, and it's WAY better that way.
@skopemag: Technology has offered tremendous opportunity to create and distribute music – but it has also saturated the market. How do you try to keep The Jack Prost Band's fans loyal and while continually gaining new ones?
JPB: It's not easy. There is a lot of noise out there, and if you're not producing new stuff on a regular basis, you lose eyes and ears. And with no gigs, the new fan acquisition channels are few and far between. The best way is to continuously send out messages, snippets, old stuff, new stuff, and keep them all engaged.
The Harmonic Headspace radio show has been a big help as well. We focus on local and unsigned music, and I think a lot of fans tune in to hear my stuff but also some incredible new music that you're not gonna hear otherwise.
@skopemag: When you are not making music what else do you enjoy in life?
JPB: I love to be in the kitchen, cooking. I love doing absolutely anything with my wife and two sons. I love going to shows or games with my wife, and friends. I also play indoor soccer and (outdoor) softball when the government allows.
@skopemag: What would you like to accomplish for the rest of 2021 and beyond?
JPB: From an internal perspective, I'd like to find a seasoned guitar player / songwriter that can assist in the creative process. I know that another creative mind, and someone focused on guitar would help make our songs batter. Plus, it would allow me to focus on my bass instead of having to perform all of the string tracks – bass, baritone, and guitar in the studio.
I plan to release three EPs this year. One with Jack Prost Band, One with Octavate, and one with my third project, Numba9ne. These other two projects are a harder edge than JPB, which is the direction that music has naturally been moving in. Octavate's first EP drops this May. You will hear more from me this year with these two projects. I couldn't be more excited.