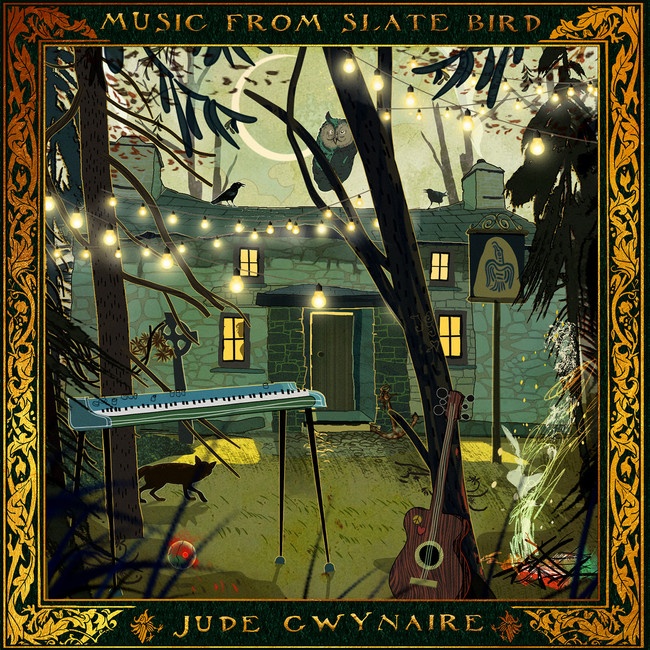 With an album title drawn from the studio where Jude Gwynaire records, his album 'Music From Slate Bird' is an extensive collection of music. Twenty-five songs total, in fact. Gwynaire is proud that his long album nevertheless contains a strong organic feel throughout. This is because it includes plenty of 'real' instruments, and not just synthesizer and keyboard parts.
– https://open.spotify.com/album/5svFVN9mNdESOMiqPPM0OQ
This album also presents a wide variety of sounds and styles. It opens with 'Blue-Eyed Girl From Kilkenny', which plays out like a Celtic rock band, and closes with the far gentler 'The Raven'. In between, one finds all kinds of different sounds.
Gwynaire can best be described as an eclectic instrumentalist. He creates instrumentals, and even though he's also a prolific fiction writer, he doesn't match these instrumentals with lyrics and singing. But make no mistake about it, his word-less songs still tell stories. Many of his compositions are titled after people or places. One series of tracks, based around 'The Orb Forest', were inspired by a sci-fi thriller Gwynaire is writing. Just like his multiple books, Gwynaire's tracks are musical works of fiction, if you will.
One is impressed by Gwynaire's multitude of musical skills. It doesn't seem as though there is an instrument he cannot play and cannot play well. It can often sound like there's a large band in the studio on these various compositions, when it's actually only Gwynaire multi-tracking himself.
One musical style that keeps recurring again and again throughout this album is psychedelic rock. One track, entitled 'Oracle of the Wildwood', for example, lets the listener get lost in a jangling electric guitar sound, which flows naturally over a fluid bass line. There is also what sounds like a flute on it, although this most likely is a keyboard approximation of a flute. No matter, though, it's still a full-bodied rock & roll orchestra. The contrast of this track with the enchanting 'Midnight in Cincinnati', is striking. The latter is a far gentler track. It sounds more like one of those soulful Massive Attack grooves. It's as R&B as 'Oracle of the Wildwood' is rock.
Some of these track titles just drive the listener to picture particular places. The organ driven 'Palaeolithic Spirits (Fillmore West Mix)' conjures up images of San Francisco's historic Fillmore concert hall. This was a place where all the big San Francisco rock musicians played, as well as greats from all around the world. Other track titles suck you in just because they're so darn intriguing. One is called 'Pollock's Dream of the Giant's Causeway'. Much like the famous painter, Jackson Pollock, this track is kind of 'out there'. It's a little bit like modern day free jazz, using electronic instrumentation to imitate what jazz players did back in the '60s. It's not so much a groove, as it is a sonic mood creator.
As you might have guessed, this is an album with widely varying sounds. You may not love all of it, but you'll almost certainly find something (hopefully, many things) to love about it.
-Dan MacIntosh