Music history is packed with songs featuring happy music put to otherwise sad lyrics. One good exemplar of this practice is The Cure. Robert Smith and his various rotating backing musicians have always created bouncy little tunes that many times also include morose lyrics. This is an unusual combination we've become quite accustomed to, and we're okay with it. However, when you do a role reversal, so to speak, and put a happy song to sad music, well, it can be more than a little unsettling. This brings us to Frally's slowed down and saddened-up take on "Girls Just Want To Have Fun."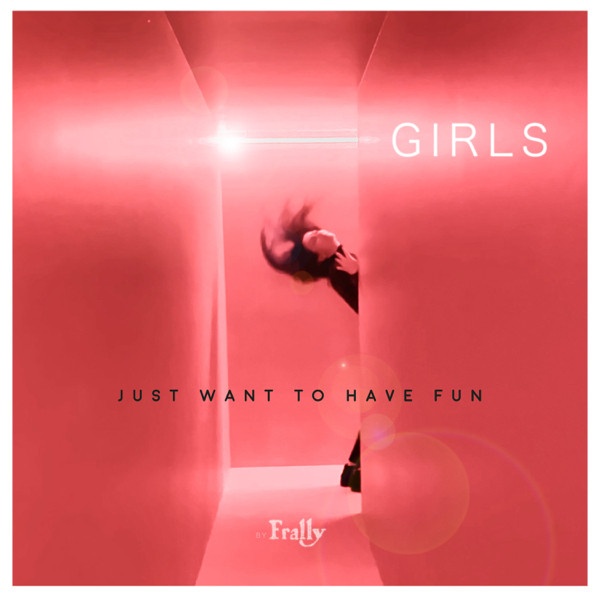 People may assume Cyndi Lauper wrote it because it (and its video, in particular) became so associated with the singer's loopy, colorful public image. Her version was a hit back in 1983, which happened around the time when MTV and music videos was becoming 'a thing.' However, Robert Hazard wrote the tune back in 1979. Nevertheless, the song has become a sort of feminist anthem and even won a Grammy for Lauper's video. It's been covered multiple times since then, of course, mostly by women.
Frally sings this song super slowly, as though it were a funeral dirge. In addition to the track's crawling pace, Frally is backed by minimal instrumentation and her voice is quiet and hesitant, as though she's singing it after just getting out of bed in the morning. The song's lyric features input from various people in this girl's life, including her mother and brother, asking her what she's going to do with her life. This version's inquisition comes off like the way Job's friends and family attacked and questioned him during his time of suffering.
This recording also features Rufus Wainwright's lovely backing vocals. When it gets the chorus, where "When the working day is done/Girls just wanna have fun," it's as though this poor girl is locked in a dungeon. Everybody else is out eating, drinking and being merry after work, while she's trapped inside her room. It really is the perfect pandemic lockdown song if you think about it. All, not just the girls, want to go out and have fun. However, nobody wants to spread the virus, so we stay in our rooms, binge on Netflix, and try and have as much fun as possible – under the circumstances.
STREAMING: https://open.spotify.com/track/68Pv6ZXgt7EC9MOLYi0kg6
Without question, this version of "Girls Just Want To Have Fun" transforms Lauper's hit into a an entirely different song. In Lauper's version, she sang it as though she was having a lot of fun doing so, where as Frally sings it like she's the girl that never has any fun. Frally's character doesn't just need more fun; she needs a life.
https://www.instagram.com/frallymusic/
Frally has a distinctive voice, although this recording doesn't test her singing all that much. She is constrained to hold back all her emotions and keep the mood quiet and still. It is far more Monday morning doldrums than Friday night celebration. It's a bold experiment, but it's not the sort of recording you'll likely play over and over again – unless you're the severely depressed type.
-Dan MacIntosh