If you like psychedelic-sounding guitar work, you'll likely love Jude Gwynaire's single "King Sol and the Merwoman." It's nearly nine minutes of swirling, mystical musical vibes.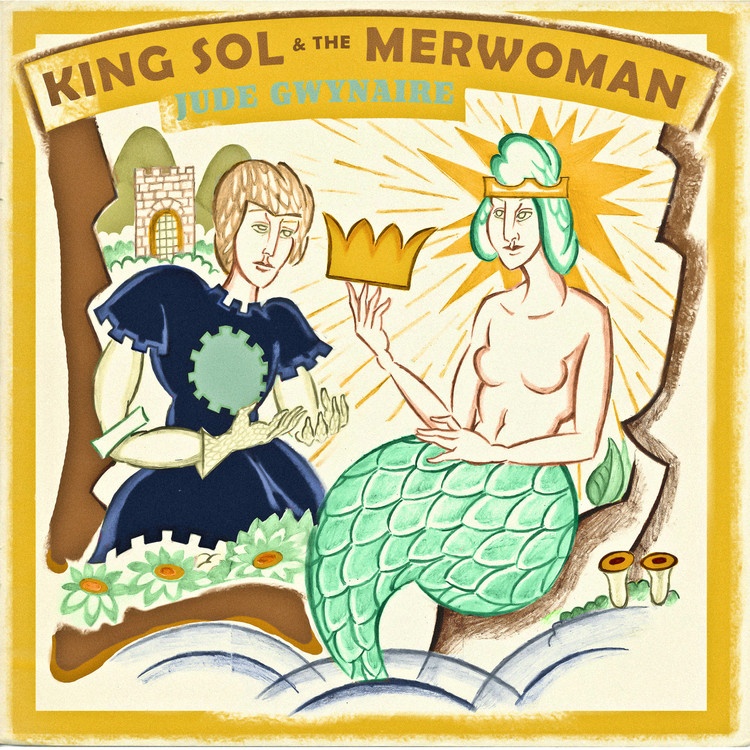 Gwynaire created this long instrumental with acoustic guitar, 12-string guitar, electric guitar, as well as percussion, virtual Irish pipes, and virtual trumpets. This track's opening melody has a sound that makes you feel like you're in the court of some medieval queen or other. Wherever you are, you've certainly stepped into the mystic. You're also not in Kansas anymore, that's for sure.
– https://open.spotify.com/album/3iMmTzsFd22xbK0zYeXbsI
The artwork accompanying this extended piece features a merwoman holding a king's crown. Gwynaire has pointed to a few artists that have helped inspire this work. One is multi-instrumentalist Mike Oldfield, who is best known for his brilliant "Tubular Bells," which was effectively used in the movie The Exorcist. Another influence was The Incredible String Band, a British act that combined folk and psychedelic music from the mid-Sixties to the mid-Seventies.
Midway through this work, one can also hear a touch of The Doors' influence on the tune. The Doors was a band that also incorporated a bevy of different styles into its overall sound. Yes, the blues and psychedelic music played a big role in The Doors music. However, if you listen closely, you can also hear such unexpected influences as John Coltrane. Jude Gwynaire – like The Doors — also has a seemingly unquenchable appetite for any and every type of music known to mankind.
This track's percussion part does not sound like traditional rock or jazz drumming. Instead, it veers much closer to Indian raga music, instead. It creates a hazy feeling. This sound doesn't have a purposeful beginning, middle and end. Instead, it beautifully meanders for quite a long time, just relishing in the overall trippy feeling. Whereas some music comes off positively workmanlike, as though someone created art the way a productive worker might produce music, this sounds more akin to the happy wanderings of a vacationer. As though going on a hike in unfamiliar territory, this sounds much closer to a someone exploring the terrain, without any sense of time.
Even so, though, the track also has an anthemic quality. It may be long, snaking its way while repeating the melody, although there's still a touch of royalty coming out of it. This is not pop radio music, and that's a compliment. It's not background music to help get the work done. Rather, it's music for listening, or what they used to term headphone music, back in the Seventies. If you can listen to this track with a good pair of headphones, you can pretty much block out the rest of the world for a spell. While there, you can create your own mind pictures based upon what the music shows you.
And just what would happen if a king and a merwoman crossed paths? It would be the stuff of stories and legends, that's for sure. Go ahead and play this music and create a mental story around it. It may feel like killing time, but it would be so much more beneficial than mindlessly watching television.
-Dan MacIntosh