Based out of England "She Made Me Do It" is a music project that is more unique than each and every one of the trillions of snowflakes said to have it's own identity as it falls to Earth. Guitarist Will Crewdson (Adam Ant, Bow Wow Wow, Rachael Stamp) and Vocalist/bassist Shaheena Dax (Rachael Stamp) along with Joe Holweger (Adam Ant) on drums, adds color, texture and dazzle to the darkened silence of voices often left unsaid. As ever the faction is on a spirited quest and the Gods themselves propel their chariot of fire.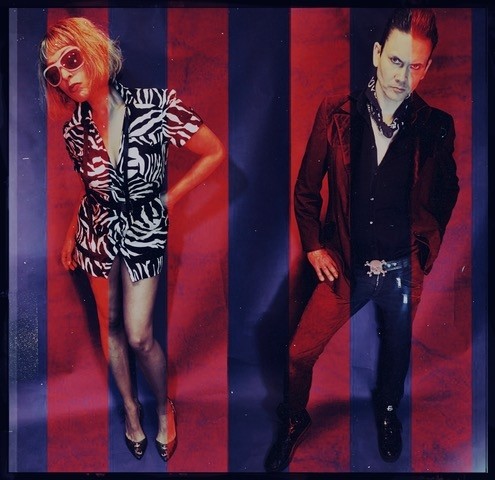 "She Made Me Do It" announces their new single to be unveiled February 19, 2021 entitled "Otherworldly" followed by a 6 track EP with the same name set to unleash on March 5, 2021. The EP is that of a revolving door passing through time. It is like stepping through a dark corridor where the ghosts of great post punk music waited until now to awaken. 
I spoke to both Will and Shaheena regarding the highly anticipated release……
What comes into your head to inspire the amazing lyrics on this new EP?
Will: They are all Shaheena's lyrics….
Shaheena is a genius.
Shaheena: I do take time to think about it. I just listen to the music usually and the words come from there. I get an idea and it leads to something else. Sometimes I'm just humming along or just singing a word and then it leads to a theme. I'm glad you noticed what I'm talking about. 
What is the premise of the new single "Otherworldly?"
Shaheena: That's probably the most straightforward theme because it's about heartbreak. It's that simple…complete utter heartbreak. I was exploring that kind of pain when you really feel betrayed and quite lost after. But at the same time, it's not about a person who is completely broken. It's about a person that will survive this but is a bit angry still and upset.
Do you delve into these themes from personal experience?
Shaheena: Well yeah, a little bit. A lot of the time I invent stories and have characters in my head. I love film a lot, I love books and I also love observing people and human behavior. So maybe it's something I experienced a little bit but then I push it further as a character experiencing it even more. it's hard to explain that….
Will, I'm thinking you write the music then?
Will: It's collaborative. Actually, a couple of the songs Joe has gotten involved with the songwriting as well, because you know he plays drums with us. That has added another element to the song writing. It's really good when we are all collaborating on it. Actually half, three of the songs were co-written with Joe and the rest of them myself and Shaheena wrote all of the music for.
What comes first, the music or the lyrics?
Will: Depends really. It's normally the music. If there is a strong enough riff or chord change progression that will spark off your lyrics. 
What inspired you to record an album now aside from there isn't much too as far as playing live these days?
Shaheena: I've been using this time as much as possible, because it's almost like a gift of time. I've been actually super busy and I think super productive in general. I refuse to let any of the outside world stall my inner self. A lot of people say that they are bored and they don't know what to do, they're upset….I feel bad for them because it's sad that they are in that place, but I'm not that kind of person at all. It has led a lot of people to reflect more about what they want in life and how they spend their time. 
Will: But you only need a couple of months to do that, you don't need a year. It's dragged on a bit now….I'm sure a lot of the atmosphere and the themes on this EP, even subconsciously were influenced by the situation we are in. 
What's the first thing that you plan on doing once the pandemic has ended?
Will: Sit in a café. I do miss that. And then travel. Travel anywhere! We are lucky that we've been allowed to rehearse, not during the first lockdown but pretty much the rest. Luckily our rehearsal room has been semi opened. We've been able to go in and do that. The fact that we've been able to go in there and play loud has been great.
If you could have me ask you any question on the planet what would it be and how would you answer?
Shaheena: How do you get most of your song writing ideas? The answer is usually from my bass. I find baselines and melodies and it sparks new songs. 
Will: Maybe, where would I want to headline? I would say the Greek Theater because it was the best gig I've ever done. We played there with Adam, so I'd love to play there with one of my own bands. I always think of that when I'm playing. 
When the EP is released what are you hoping people will take away with them?
Shaheena: I think that these are some of our best songs. I think this is a new level for us and I hope people like the song writing. It really made me happy that you listened to the lyrics, so I hope that they think about that as well. We worked hard. We put a lot of effort into this. 
Will: Sometimes when you've been working on a recording, getting stuff mixed then producing it, even if it's the best thing you've ever done it can wear on you a bit. You don't wanna listen to it. But with this one I'm just really happy to listen to it. It evokes loads of emotions, not only from the lyrics, from everything about it. 
That's always a good sign, when you like it yourself.
Will: Exactly. I really want people to hear it. I think it's quite filmic as well and I can imagine it being synced to some kind of movie. That would be ideal for me if something like that happened, especially since we can't play live at the moment. 
She Made Me Do It Bandcamp:
https://shemademedoit.bandcamp.com
Interview by Eileen Shapiro