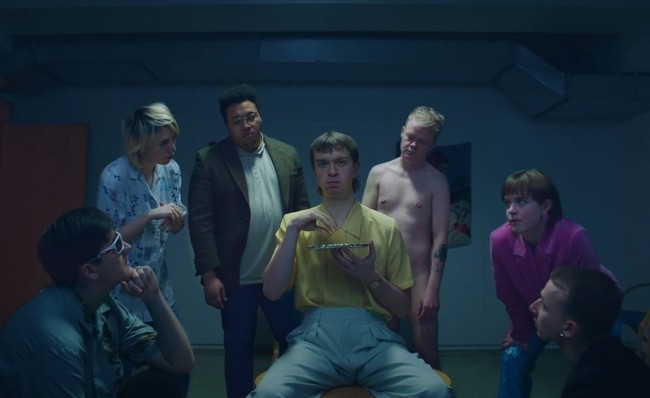 Norwegian artist, producer and creative maverick Lokoy today releases a new video for his single "relay" (with Nils Bech) – lifted from his acclaimed full length debut album badminton – out now via Propeller Recordings.
A dazzling polyrhythmic pop cut incorporating African-inspired percussion and sampled Icelandic church choirs, the video for "relay" – directed by Sebastian Kåss invites the viewer to an Apathetics Anonymous group session in Oslo. The 'AA' group's attendees include rising Norwegian artists, actors and musicians such as GABIFUEGO (of Boy Pablo), Kamara and Safario. The group meet regularly and challenge each other in luring out emotions such as laughter, embarrassment, happiness and pain by completing tasks such as fighting, undressing, and more.
"relay" is lifted from Lokoy's debut album badminton, which at its core is a dizzying no-holds-barred exploration of pop. His futuristic, charming production the constant throughout; across the 15 tracks he brings to the table a host of exciting new Norwegian talent, including Nils Bech, Safario, Moyka, Emilie Østebø and Sofus.
In Lasse Lokøy you've got it all: bassist, singer, songwriter, producer, polymath and party-starter. Following previous collaborations and releases with some of Norway's most exciting prospects (girl in red, Jimi Somewhere, dePresno), Lokoy has quickly become one of Oslo's most in-demand producers and collaborators.