Singer-songwriter and bass-playing superstar Blu DeTiger has announced her debut EP How Did We Get Here?, slated for release March 5th, alongside her huge new single "Vintage" which premiered today on Zane Lowe's Beats 1 Radio show. The pop-funk anthem puts the 21 year old music prodigy in the driver's seat, reversing gender roles in traditional song narratives. "I sing about needing a 'vintage boy' – not to take me out on the town or to make me feel special – but to be an accessory to my sick outfit." Blu said. "Usually the perspective is from the guy, who has a girlfriend as his arm candy. In my version, the girl is still the main character. The song is meant to empower, along with highlight the characters that I often run into in New York City." The stylized video cuts between scenes of NYC life out in the streets, young love interests finding their way and Blu shot in perfectly modern looks that inspire nostalgia from decades past.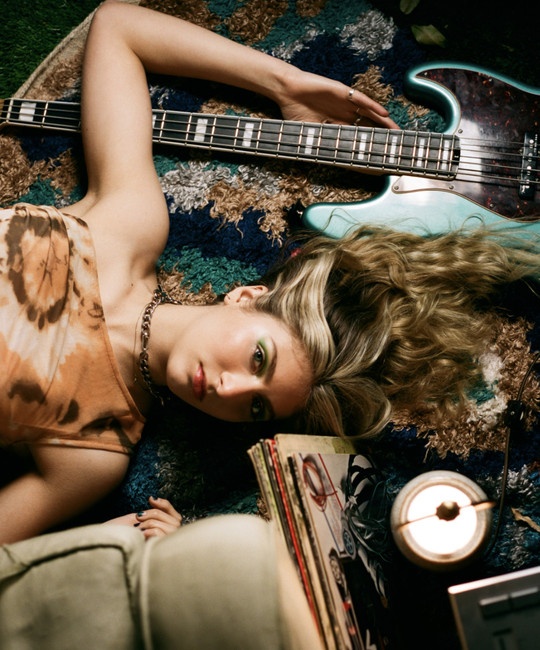 "Vintage" follows the viral "Figure It Out," which earned a slot in NPR Music's Top 40 Songs of the Year, and skyrocketed Blu to 1+M million TikTok followers, and "Cotton Candy Lemonade," garnering press from Paper, Interview, Billboard, Flaunt and more and leading to live dates with Caroline Polachek, Fletcher, and The Knocks. Born and raised in New York City, Blu first held the bass guitar at the age of seven years old and quickly became a staple in the NYC scene when she would DJ clubs at the age of 17. She's made quite an imprint in the fashion world, appearing at Chanel, Valentino, Christian Dior, Louis Vuitton, Miu Miu, and Maison Margiela shows, and walking in the KidSuper NYFW show.
Blu has since accumulated over 35+M audio streams worldwide across Spotify and Apple, and "Vintage" gives listeners an early preview of what's to come on How Did We Get Here?.