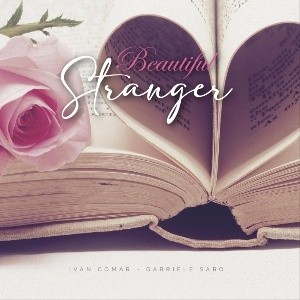 Gabriele Saro's achievements are impressive no matter if he is a musician or a carpenter. His academic credentials with degrees in Business Administration, neuro science, music composition for film, and violin are enough to put to rest any superficial doubts someone may harbor about his intellectual legitimacy. His press materials mention a lifelong clash between the artistic and rational sides of his nature and you hear it in his music as well. The precision and polished surfaces present throughout both recent releases "Valentine" and "Beautiful Stranger" are coupled with undeniable vocal passion. The singing is your surest indicator, on both tracks, that the participants are fully involved with their performance.
MOREON GABRIELE SARO: https://www.gabrielesaro.com/
The chorus for "Beautiful Stranger" bursts with longing. This isn't affected, stagy desire, the stock and trade of hack pop stars, but instead burns with palpable need you hear in each syllable of the lyric. There's no question both songs are pulled from somewhere deep within, but Saro and Comar's contributions help push "Beautiful Stranger" to a higher level of universality that will likely resonate with his listeners. The track isn't lengthy, as well, and feels tailored to an appropriate duration.
The musical backing is robust. It is a largely electronic track but avoids the cold impersonal slant of many such tracks. Much of this is thanks, however, to the inclusion of traditional instruments. The drumming, for example, has a live sound and the snare snaps with a decisiveness that only makes "Beautiful Stranger" an even more entertaining experience. I especially enjoy the insistent electronic pulse at the song's heart and how it underlines the song's freewheeling power.
Even if Saro's musical education shows extensive grounding in classical music, "Beautiful Stranger" and "Valentine" alike demonstrates his surehanded skill with pop songwriting. Writing a Valentine's Day themed track may shape listener's expectations in such a way they expect beguiling melodies and a relaxed feel, but Gabriele Saro is happy to overturn your expectations. "Valentine" crackles with the exuberant energy I heard in the earlier "Beautiful Stranger" and has a strong chorus, though not nearly as punchy as what he concocts for the aforementioned tune.
"Valentine" embraces the same electronic pulse powering "Beautiful Stranger" but differs in key respects. The prominent synthesized guitar present in the arrangement and the room to breathe Saro allows the track during the verses are especially notable. The former, the gui8tar running through "Valentine", gives it an edge lacking in the earlier track whilst still retaining its clear pop sound. His ability to shade different tracks with subtle shifts in musical color further sets Saro apart from countless peers and contemporaries.
AMAZON: https://www.amazon.com/Beautiful-Stranger/dp/B087NL243S
These singles are an ideal introduction to Gabriele Saro's considerable talents but, likewise, reaffirm the faith existing fans have placed in this skilled performer and composer. "Beautiful Stranger" and "Valentine" rank among the standard bearers for pop music in 2021 and there's no reason to believe Saro won't continue writing and recording top flight entertainment such as this for many more years to come. Let's enjoy the ride while we can.  
Gwen Waggoner