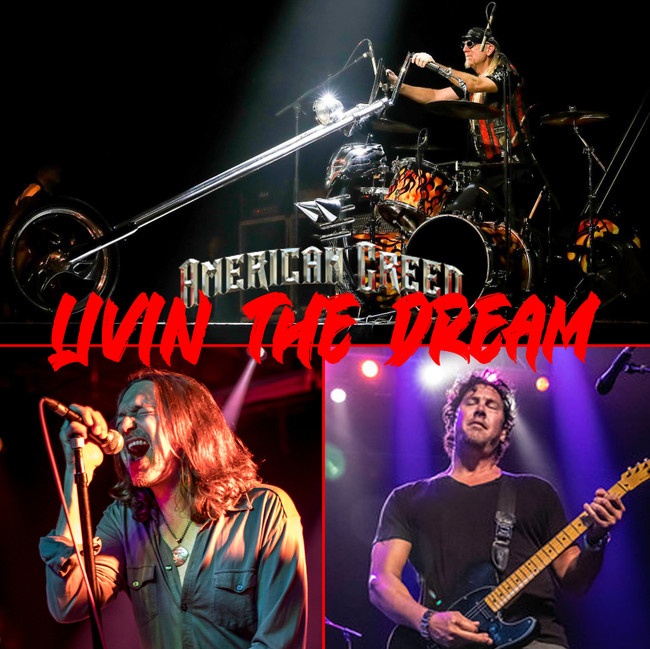 While American Greed may not identify as a "super group," they might be just about as close as you can get. Boasting former projects such as Head East and Chuck Berry, as well as having shared the stage with Nickelback and Alice In Chains, the various members of AG, are highly decorated. Their experience with high profile acts, has given them the experience that all but guarantees quality material. Two new singles, "Together," and "Livin The Dream" are prime examples of the compositional prowess and audio expertise of such a well journeyed group. Both songs follow a ballad like structure, but are not short on energy and fervor.
FACEBOOK: https://www.facebook.com/pages/category/Musician-Band/American-Greed-115165995197412/
The Black Crowes tinged "Livin The Dream" evokes a bit of nostalgia. It wouldn't feel out of place in a variety of decades, yet feels relatively fresh in the scope of its advocacy. For American Greed, Living The Dream, is embracing the life you already have. Well if it never gets better than this/I know/I'm doing all I can/well if it never gets better than this/Better/I'll never lose what I had. There's not a lot of smoke and mirrors to this one, as what you hear is what you get.
This one features a guest spot by keyboardist, Johnny Neel, of Allman Brothers and Dickey Betts fame. He lays down an organ track, that really gives the piece some extra juice. He gives it a classic feel, while also enhancing the tone of the songs aim. There really isn't a single flaw on "Livin The Dream." It's an expertly written and performed piece, by a group of capable pros.
On "Together," the band goes for a mix with a bit more depth, including what sounds like a chorus of backup singers. The song boasts strong harmonies, and an overall rich vocal performance by Farver. There's a solo by Arana, around the halfway mark that is seamlessly timed, and disciplined, as well as far from lengthy. It's little touches like these, that show the maturity of AG, that should serve as a manual for aspiring rock musicians, and guitarists in general. You can do a lot more with less, and still leave a blazing impression, as Arana's solo actually leaves you wanting more.
HEAR NOW: https://americangreed.hearnow.com/
I just want to hear you say/we'll be together. The band cites the general concept of togetherness and unifying energies as the inspiration for "Together." You can't help but envision this song as the opening theme to a late 80's, early 90's family themed sitcom. It has a sort of enveloping wholesomeness, that gets looped in your head, after a couple listens. AG dedicates this piece to all those separated from loved ones, and the hope to one day, be reunited.
American Greed have Successfully captured the frequencies of the modern zeitgeist, by channeling the spirit of the past. Both of these tracks, while not waxing poetic or deliberately artful, have made a subtle and profound statement. This type of music, while it may not resonate with all, is as conducive to the universal healing process, as any other, at the moment. The band's name, alone, is striking in an all knowing sense of the word. Acceptance might just be the final step, to recapturing the dream.
Mark Ryan
The music of American Greed has been heard all over the world in partnership with the radio plugging services offered by Musik and Film Radio Promotions Division.  Learn more – https://musikandfilm.com/