Henny Holyfield shows us all how its done on his latest release. With Mistah F.A.B in imperious form, 'Win (Remix)' is an exciting new Hip Hop track and this is the story of a man that wants others to do well. This is a selfless emcee that is one of the good guys, in an often ego-driven industry.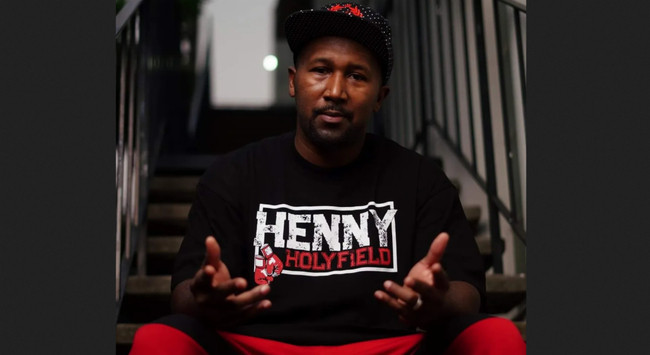 With a flow that is absolutely classy and hits the spot just right and a visual video that captures the moment perfectly, this is a message of peace in a war zone year of madness.
With an attitude that raises the game, Henny Holyfield (ft Mistah F.A.B) sends the world a positive message on the 'Win (Remix)'. This is an ode to the way music was supposed to be, supporting others and wanting those good souls to well.
In a world full of negativity and chaos, Henny Holyfield & Mistah F.A.B weigh in with an alternative outlook. To uplift your people as opposed to tearing them down. Hoping for someone else's success will not take away from yours. I want to see you WIN. This is the 8th release off of Holyfield's album CLOCKED IN, which is available on all digital platforms.
Music in 2020 is all about rap beef and creating headlines to drive clicks. This is a swing back to the old school and for this, Henny needs to be acclaimed and admired. Hopefully his message spreads to the youngsters in the music game who can gradually change the native. People dying and getting hurt over music is something that needs to end as soon as possible.
There are certain people on earth that walk amongst us carrying themselves in almost an iconic fashion. A soul so universally accepted, that age and material can't define their means of measure. Who you are is success; becoming successful is the inevitable outcome when manifesting your true self. This is the message of break through artist Henny Holyfield more formally known as Jeffrey Harris. His mindset and energy have made the Northern California terrain and easier environment to navigate through. With so many reputable allies as he launches his rebranded solo career, a new form of leadership and sense of urgency in the growth of his sound and musical endeavor emerges.
– http://hyperurl.co/CLOCKEDIN
Influences of 2pac can be heard, in the way Holyfield cares for the community, a true pioneer and chain breaker in that aspect. Coming from an intellectual perspective a Nas level of intelligence and assertiveness to conversation can be found; direct and to the point leaving nothing falling on deaf ears. Influences of Mc Hammer and Heavy D play a role in how much fun his live performance can be. With over 500+ live events, he has an ora about him that makes the audience feel they got their money's worth after a set list of "why am I here type of acts".
It is no question that Henny Holyfield is giving a resurgence to his region and motivating those around him to win in their own ways.