It's only January and I'm beginning to see the larger musical aesthetic 2021 seems to be sliding towards. There's an apparent rejection of the traditional pop noises that we've become used to, even with Pop music becoming more sophisticated with the rise and inclusion of indie artists blending their honest lyrics and perspectives with flashy modern production that seems to be easier than ever to access.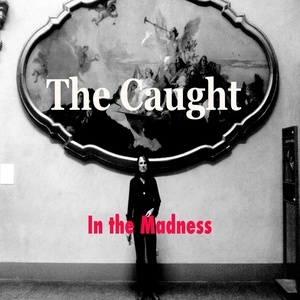 When you want to look towards the future of music trends, you need to go backwards, and in my estimation, we're beginning to see the advent of rock acts whose roots come decidedly from the late 80s and early 90s as is the case with The Caught's recent single "I'm Caught." From the moment it begins with what sounds like clanking reminiscent of glass bottles and a particularly moody guitar riff, you can't help but be flooded with memories of the first time listening to the likes of Echo and the Bunnymen or Tears for Fears. The Caught, headed by frontman Melvin Alan pride themselves on standing out from the rest by not succumbing to what they describe as "overproduced, robotic drenched pop" and while I take a little umbrage by that remark, (you can be different without slamming your peers) it's hard to deny that they have a sound going for them that's certainly different and a nice change of pace from current music trends.
URL: https://www.thecaught.com/
"I'm Caught" lyrically, is something of an obtuse track. Alan sings about feeling like a walking skeleton and that he's "caught in a spell" but it's unclear if he's singing about a person, or something a little more conceptually abstract. I feel though, this might be by design as Alan has previously dealt with a life threatening disease in his past, and with that knowledge in place it feels as though he's singing about the process of death itself when he croons that he's going to let this unknown entity "do what you're going to do" while he lays back. I wish the lyrics got a little more introspective and specific, but considering he's reinterpreting potentially personal pain into a universal experience for the listener, he does a bang up job exploring those ideas as it stands.
While the subject matter might be on the more unconventional side of delivery, some of the lyrics can lean too conventional, but it's hardly a complaint when the real spotlight is on Alan's vocals and the impeccable guitar accompaniment by his associate Trev. The production on this thing is a layered wonder starting with the aforementioned clanging, to the soulful guitars to an ending that rouses with some fantastically incorporated strings. The vision Alan and Trev share is that of one tapping into a specific unspoken angst that will resonant with many given the times we live in. It's always a joy to listen to a new band and immediately be won over by the sense of confidence and instrumental mastery such as The Caught displays fiercely and I'm excited to see where they go next after the madness. 
Wyatt Kennedy
The music of The Caught has been heard all over the world in partnership with the radio plugging services offered by Musik and Film Radio Promotions Division.  Learn more https://musikandfilm.com