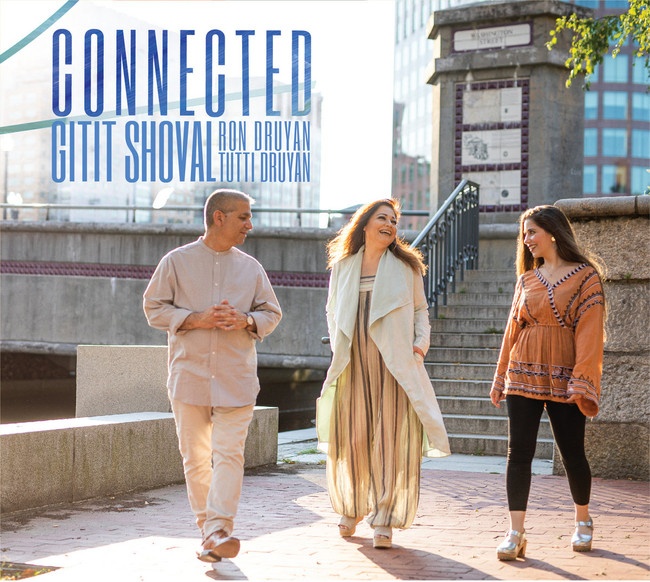 Gitit Shoval is an award-winning vocalist from Israel and she invites you to take a spiritual journey into the world of Jewish culture. By way of traditional prayers and psalms, Gitit wants listeners to be 'Connected' on the new record. What makes this project even more special is that the album also includes Gitit's husband, Ron Druyan and their daughter, Tutti Druyan. This family never sounded better together and that's why it's hard to believe that 'Connected' marks the first time Gitit, Ron and Tutti have recorded as a trio.
This new album from Gitit Shoval includes 17 well-executed and well-designed tracks that speak to you in more ways than one. 'Connected' is pure precision at its finest as Gitit and her loved ones breathe new life into music by taking the art form to a higher place. Prepare to be swept away by Gitit while listening to 'Connected' because the songs will simply leave you speechless.
The record starts up with a number titled "R'tzei" that offers an enchanting sound right out of the gates to go along with a power-packed voice from Gitit. "R'tzei" is musically rich and truly gets the listener excited for what lies ahead. Next, get ready for "Elohai N'shama" that showcases Gitit Shoval's wonderful tone that has a way of instantly pulling you in. On track three, "Oh Elohei Hashaket", one will hear an enticing melody and soothing strings while track four, "Avinu Malkeinu", provides a moving performance overall that is soul-stirring to say the least. On "Shema Koleinu" Gitit & company are singing to ALL and praising ALL things good in nature. Track six, "Hadudaim", is a high-spirited tune with glowing notes while track seven, "Mi Ha'ish", contains a mystifying aura. The song "Sim Shalom" has a huge impact on the audience from a vocal & musical standpoint as you feel in your bones that something very special is happening here. Get ready for a strong delivery, catchy beat, BIG 'n' bright audio and golden harmonies on "Adonai S'fatai Tifach". Track 10, "Achat Sh'alti", you get such a delicate touch and angelic presence from Gitit vocally and then get hit with a gripping performance on "Ahavat Olam". Prepare to dive deep spiritually on "Ani Ma'amin" and then it's simply music to my ears on "Oseh Shalom" where the trio is truly shining as a family unit. Gitit is soaring high and singing to the Heavens on "Shiv'a Kanim" and then turn around and take in an excellent production on "Yerushalayim Shel Zahav". On track 16, "Rikma Enoshit Achat", Gitit is reaching for the skies and hitting on all the right, emotional chords. What a masterful finish on "Uf Gozal" that is sure to lift your spirits and even includes the glorious sounds of the saxophone that will just blow you away!
'Connected' is the perfect title because the music comes alive and speaks to us ALL. 'Connected' as artists, 'Connected' as a real family and 'Connected' as ONE. Music is a powerful thing and universal language AND Gitit Shoval, Ron Druyan & Tutti Druyan prove this with compositions that are beautifully done. Get 'Connected' with Gitit Shoval and take spiritual music to another level!
http://www.gititshovalmusic.com/
https://www.facebook.com/gititshoval
https://twitter.com/gitit_shoval
By Jimmy Rae