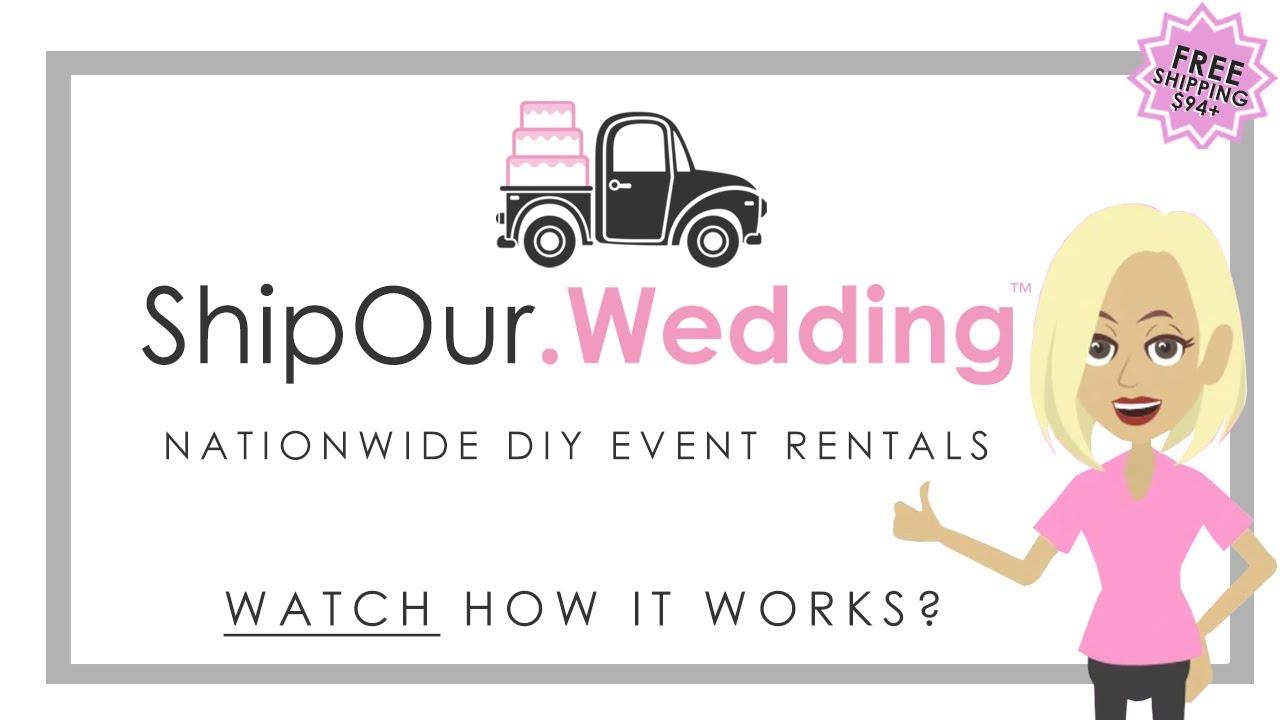 There is an increasing trend in wedding planning and that is going DIY and doing it yourself. The reason behind this trend is people are becoming more and more creative and are coming out with unique ideas. People consider DIY weddings more enjoyable as compared to those by hiring vendors. One example of a DIY company is Ship Our Wedding. Their team provide nationwide DIY wedding rentals that ship to couples so they don't have to hire an expensive vendor.
There are several beneficial reasons to plan a DIY wedding. Some of the most prominent reasons to plan a DIY wedding are listed below.
1.
Personalization 
The Y in DIY stands for yourself or yourselves which means you can plan your wedding by taking ideas from your friends, family, or others. You can personalize your wedding the way you want. You can choose the wedding theme of your choice, write your invitations on your own time. You can plan all the elements of your wedding if you plan a DIY wedding.
2.
Save On Cost
The second reason to plan a DIY wedding is that you can save a huge amount of money if you do all the work yourself. DIY events or DIY weddings are cost-effective when you take the labor from other vendors out of the equation. You can repurpose items or do most of the setting up yourself. You can turn your wedding into a cost-effective event when you DIY your wedding.
3.
Choose Your Theme
The third benefit of planning a DIY wedding is that you can choose the themes of your interests. You can use materials or decorative things according to your desired theme. Moreover, DIY ideas work with every possible theme.
4.
Good Experience
Another benefit of planning a DIY wedding is that you come to know a lot of skills when you plan an event by yourself. This experience gives you a gratifying feeling of accomplishment. You can build off this experience further by becoming a vendor yourself and offering value to couples who are looking for a similar service. 
5.
Chance to Strengthen Relationships
DIY events are great chances to strengthen relationships. Different people, friends, or family members plan a DIY event. They share ideas and interact with each other. Couples share their views and give feedback to help you create a memorable event. Thus DIY events & weddings are a great platform for people to grow and spend time planning together.
6.
Everyone Can Plan a DIY Wedding
Last but not least, the benefit or reason to plan a DIY wedding is that almost everyone in the world can plan his or her DIY wedding or any other event. Planning a DIY wedding requires time and effort. Moreover, you need to know the ways in which you can implement your ideas. So keep reading our helpful article for some areas you can focus on.
Essentials of a DIY Wedding
People need to know the essentials of how to plan a DIY wedding. Essentials of DIY wedding mean some areas and places you can draw attention to to maximize guest engagement. Some of the most significant essentials of a DIY wedding are listed below
1.
DIY themes
DIY weddings require a certain theme of your choice. So you need to plan a theme for your wedding and work accordingly. Is your event seasonal? Do you have a theme that reflects your personality as a couple?
2.
DIY decorations
The second most essential thing about a DIY wedding is decorations. You need to make arrangements and do decorations according to your desired theme. One example is to rent string lights for an outdoor wedding and another would be buying linen and tablecloths and have it personalized by doing some embroidery on it. Try to find DIY rentals that tie in with your theme.
3.
DIY cake decorations
Your cake is just one more place to highlight with decor. Incorporate simple ideas for either a modern or traditional approach. We recommend finding ideas online to get inspired. Put your own twist by decorating your cake table and even pinspoting your cake.
The Bottom Line
DIY allows you to plan your event or wedding at the pace you are comfortable with. Up until now, a majority of couples would hire wedding or event planners. Now there are new online nationwide DIY rentals companies like Ship Our Wedding that give affordable & beautiful solutions. Take back control of your wedding planning by doing it yourself. Creat the event of your dreams and stay under budget.