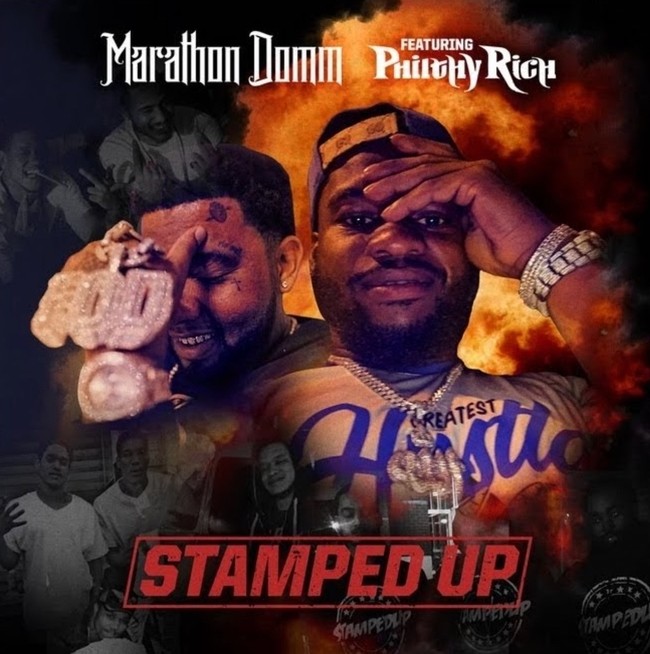 When we listen to music, it's usually based on whatever mood we're in. When we're happy and energetic, we play energetic music; when we're sad, we play sad music, and so on. So, when we want to take some time for ourselves and chill out, we gravitate towards music that helps us feel that way. Well, add the new Marathon Domm single "Stamped Up," featuring Philthy Rich, to your chilling out playlist. This is the perfect song whenever you feel like taking a beat and taking some time for yourself. Don't be fooled by the chill vibes, though; this fresh new single is still jammed pack with energy.
"Stamped Up" is a chilled out, vibey hip hop track that would make any night out or in one to remember. Marathon Domm is another newcomer on the hip hop scene, and with each single release, his game keeps going up and up. He talks about the same themes you can find in almost any hip-hop track: references to money, a complicated love story, and self-confidence. But Marathon Domm approaches these themes in an authentic, brand new way. The lyrics in this song will make listeners stop for a second and take in what the words are saying. There's an entire deep, vulnerable side to the song some could find unexpected. That's what makes Marathon Domm so special and stand out from the rest.
This fire-hot video starts strong with expensive cars, expensive jewelry, and a beautiful woman in every frame. The entire shoot stays lit with a dark, sultry red light with flashes of white and green, while money is scattered on the hood of one of the expensive-looking cars. As the video continues, we get a close up of one fella's shirt with a picture of Breonna Taylor, a victim of police brutality, an important reminder despite our social media feeds going back to normal. The rest of the video shows Marathon Domm and Philthy Rich dancing and rapping around the car in their own private garage. All while beautiful women come in throughout the frames to take their spot and start dancing around the car. It's one of the most captivating videos to come out of quarantine, and you can almost feel a sense of normalcy when watching it. Relaxation and normalcy, that's a pretty terrific combination.