The interest in ahegao has dramatically increased over the past few years. If you take a look at the popularity of the term 'ahegao', you can clearly see that a large number of people have familiarized themselves with it, and the number is increasing as I write this.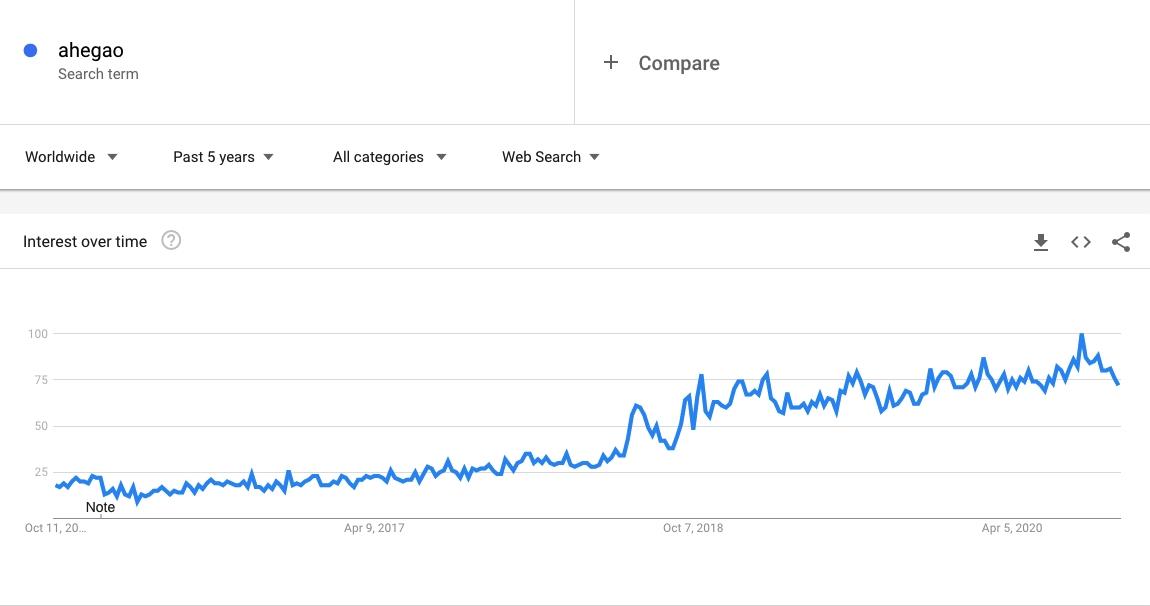 What is ahegao?
Ahegao is a term originating from Japanese pornography from the 90s. The first part 'ahe' is an abbreviation from aheahe which means moan. The second part (gao) means face – thus, the term can be interpreted as 'moaning face'. It made it's way to the Western world by hentai sites such as Fakku and forums like Reddit and 4chan.
An ahegao face is usually pictured as eyes rolling back and tongue hanging out: a face representing an extreme orgasm. And yes, if your girlfriend had this face before she was probably faking her orgasm. Sorry to tell you. 
Why do people love it? There is no clear answer to that, but there's definitely something weirdly arousing in these absurdly ecstatic faces.
Let's take a look at some of the major factors that made ahegao so popular:
Belle Delphine
Belle Delphine has unquestionably contributed a lot to the hype. For those who are not familiar with who she is, here's a brief recap:
She is a gamer girl who is famous for her cosplays and

ahegao

face;

Sold her '

gamer girl bathwater

' for $30 a

pop;

Promised to release a video where she strokes two cock if she reaches a certain number of followers – then released a video with two

roosters;

Opened an

OnlyFans

account

.
You can love her or hate her but you cannot deny that she has an amazing ahegao face.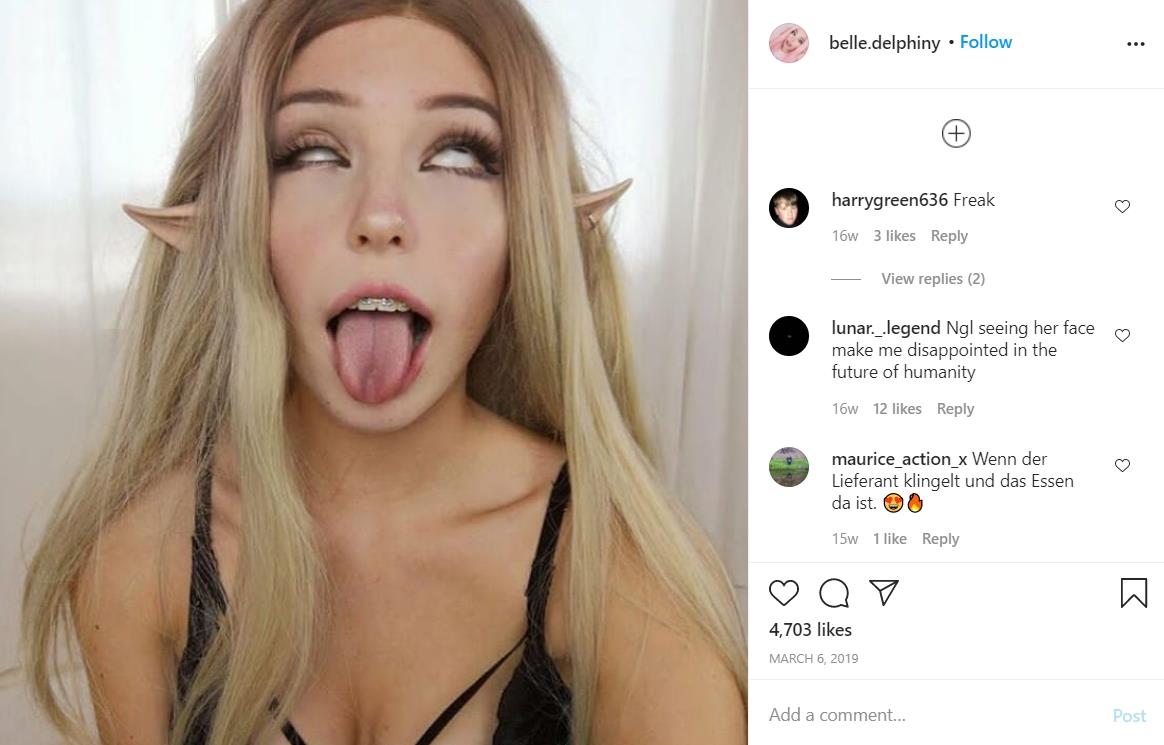 Pornhub
You might ask, why Pornhub? Well, the numbers speak for themselves. Pornhub is one of the most popular porn sites on the internet so your chances of finding the porn of your taste is pretty damn high. And trending categories are always a huge thing at Pornhub. If you type ahegao in the search bar you will see plenty of hot babes with ahegao faces.
Hentaied.com
Hentaied is NOT your average porn site. Its motto is hentai made real, and well… it is pretty accurate. You can find all your favorite categories from hentai: tentacles, bukkake, and of course, an exceptional amount of ahegao. Seriously, every single video features ahegao. They even have a series called Ahegao Masturbation Series, featuring gorgeous actresses such as Jia Lissa and May Thai.
And on top of all this, they even have a video called Elf Production, featuring AlyaStark. Unless you know exactly how elves reproduce, then this video is a must. 
Reddit
Most of you are probably familiar with Reddit. Reddit is a collection of forums called subreddits. Each subreddit is focused on a certain topic and people can post content related to it. And luckily, Reddit is NSFW safe. You can find super relevant content for your deeply desired jizzes. And of course, Reddit gives home to many popular ahegao-related subreddits with hundreds of thousands of people. These communities are highly active so you are guaranteed to find something you dig in there.
These are some of the most popular subreddits: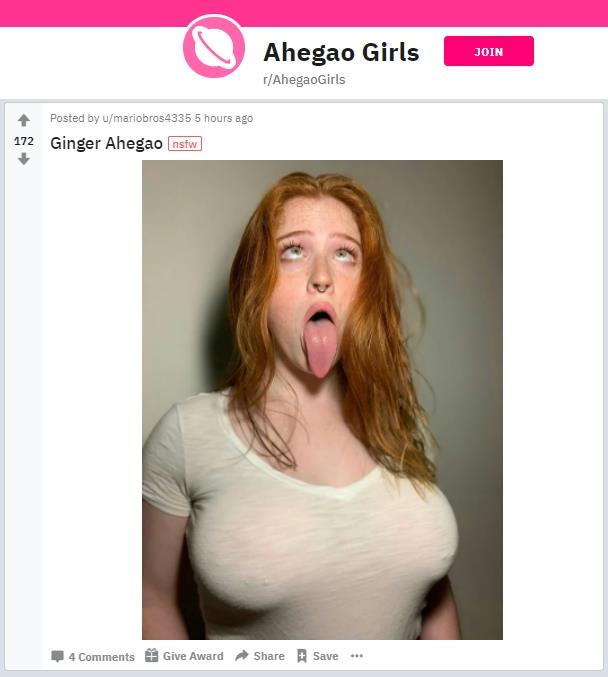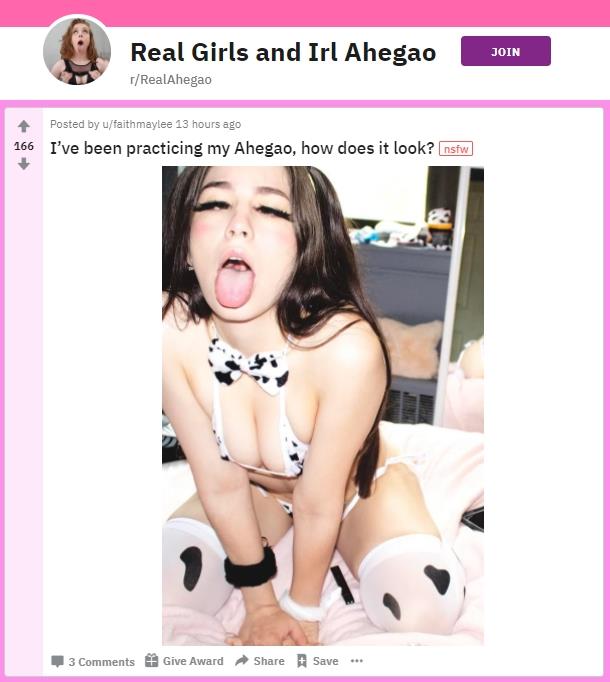 OnlyFans
If you have any actress you particularly like, then there's no chance you haven't heard about OnlyFans. While we are stuck at home it's no surprise that both the number of fans and creators are rising on OnlyFans. You can pay a monthly subscription to your favorite models, for which you are allowed to see their private content – selfies, videos, or even 1-on-1 calls with them. Naturally, ahegao showed up here as well.
Check out some of the best ahegao creators! They are wild.