Brooklyn-based singer-songwriter Anna Shoemaker releases her new single/video, "Silver Cowboy Boots (feat. Invisible Will)," out on all streaming platforms via BMG. Written by Shoemaker and produced by Will Baker, "Silver Cowboy Boots" is a glistening R&B-tinged pop ballad that showcases Shoemaker's flair for multi-layered lyricism.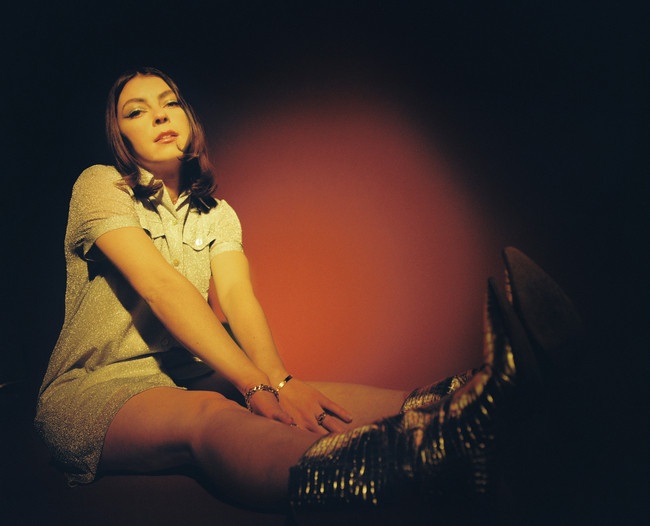 As Coco Chanel once said, "if you are sad, if you are heartbroken, make yourself up, dress up, add more lipstick and attack," and that's exactly what Shoemaker was thinking when she impulse purchased a pair of silver Fendi cowboy boots while nursing her broken heart: "I wrote this song after my ex and I broke up for the second time. He seemed to be doing fine and I was still heartbroken. I was in the studio sad, hungover, and wearing these insane silver Fendi cowboy boots I had bought myself and was just like, you know what, maybe this is fine?," she says. "All that guy did was mess with me, these boots can't mess with me. They match everything, they look sick, they never tell me not to work with a certain producer or rapper because they're jealous, they never get in fights at bars and then bleed all over my apartment, they never block my number for no reason, they never laugh at me or tell me I need to be better on stage if I want to make it big. They just make me look good and stand tall and confident, and that's really all you can ask for from a relationship."
LISTEN HERE:
https://annashoemaker.lnk.to/SilverCowboyBoots
26-year-old New York-based, Philadelphia-born Shoemaker first made her mark as a Soundcloud sensation with her viral mashup of Kendrick Lamar's "Bitch Don't Kill My Vibe" and Chance the Rapper's "Cocoa Butter Kisses," which she recorded on her bedroom floor. The song, which now has over 892K streams, caught the attention of fashion mogul Steve Madden, who signed her to his record label, 5Towns Records. Her debut EP, East Side, was produced by GRAMMY-nominated producer JT Daly and released in 2018. Earlier this year, with a newly inked deal with BMG, Shoemaker released her sophomore effort, Everything Is Embarrassing, and has continued to unveil singles throughout the year. Despite only being a few years into her career, Shoemaker has already been praised by the likes of Billboard and Refinery29, opened for Julia Michaels and Bishop Briggs, and sold out her own headlining gig at Mercury Lounge.