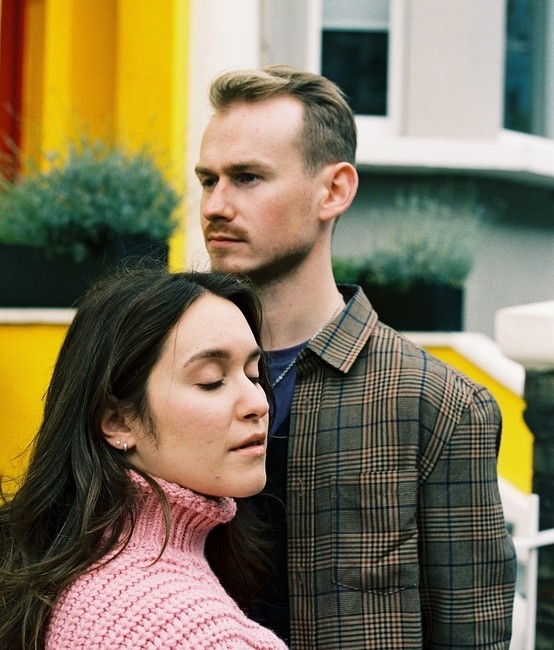 redbook are the new musical magicians colouring our utterly grey days right now. Made up of Swiss-born pop lover Soraya Grosso and British guitarist Jake Tweddle, rebook (no capitals, ever) are storming the scene with the sweet sound of their genre-blurring approach. Soraya Grosso brings her rich, soulful vocals that sail over Jake's stunning guitar strumming. Having met by chance – as all great bonds start – at a local cinema the duo have been on a musical whirlwind for years. With a host of singles and two EP's under their belt, rebook are continuing their musical adventure with the recent release of their stunning single 'little friend'.
'little friend' might just be redbook's most fully realised track to date. Rooted in a guitar soundscape, Jake's expertly crafted countermelodies effortlessly intertwine with Soraya's sensational singing. redbook describe their track as "living somewhere between a lullaby and a ballad," yet I would attest that 'little friend' is an effortless evolution of the acoustic ballad. Incorporating choir-like harmonies, strings that will get your hair standing on end and a driving drum line, 'little friend' pushes the boundaries on what an acoustic ballad could be. Soraya's vibrant vocals are astonishing as the inspiring single builds to a steady climax.
Recently, redbook released an utterly breathtaking live recording of 'little friend,' recorded as the Old Saxon Church (Albury). This live experience showcases the musical mastery that inaugurates rebook as such a vital act rising the ranks this year. Soraya's vocals seem to vibrate over every inch of their beautiful backdrop, melting into Jake's steady strumming.  This goosebump giving performance just goes to show that even through a screen, real talent will have you stuck to your seat. It boasts a humanness and raw energy that you can't help but allow to deeply resonate. In fact, 'little friend' might just be exactly what we're craving as we slowly trudge through a Winter of lockdowns. With over fifteen thousand streams on Spotify alone, it's evident redbook are resonating with thousands of people this year – and I'm deeply grateful I'm one of them.
Watch 'little friend' Live At The Old Saxon Church on Youtube:
Keep Up To Date With redbook on FACEBOOK | INSTAGRAM | YOUTUBE
Listen to 'little friend' on SPOTIFY NOW