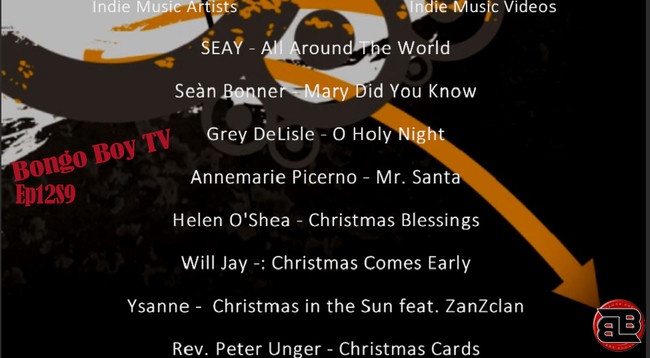 Bongo Boy Rock n Roll TV Show Presents Music Videos From Around The World broadcast on Terrestrial TV channels in the USA.
SEAY revels in the reason for the season with the joyous "All Around The World". A serene sense of self takes hold while the piece washes over the listener. Gentle melodies waft on through weaving the many different layers of sound together.
With a celestial, graceful ode Seàn Bonner sings "Mary Did You Know" in such an awe-inspiring way. The graceful guitar works wonders as a perfect piece of punctuation to his fragile vocals. Done with such delicacy the whole of the track feels so soothing.
"O Holy Night" is explored in full thanks to the patient persistent vocals of Grey DeLisle. Here the slowcore western twang works wonders. The small chamber country pop perfection adds to the regal sensibility of the lyricism, delivered with such compassion.
Annemarie Picerno delivers a jazzy take with "Mr. Santa". Quite a wild trip it incorporates a slew of styles giving it a distinctly urbane approach. Right in the center of it is her sophisticated, swinging voice.
Helen O'Shea offers a highly personal narrative with the poignant "Christmas Blessings". A contemplative piece it reflects upon Christmases past, present, as well as looking towards the future. This work delves into the thoughtful side of the holiday and is sung with a sense of wistfulness.
Peppy pop musings race through on Will Jay's giddy "Christmas Comes Early". Layer upon layer of sound is added for the entirety of the piece feels celebratory. Full of cheer the song has an iridescent quality to it.
Ysanne offers an original take on those who celebrate Christmas without snow on "Christmas in the Sun feat. ZanZclan". The cleverness comes from the way it explores the traditions of Christmas without the snow that makes it famous. Playful to its core the whole of the piece has a brightness to it.
A quiet symphonic sound graces Rev. Peter Unger's "Christmas Cards". Sung with such reassurance the whole of the arrangement adds to the soulful vocals. Lyrics too feature a sense of contentment and close the collection off on a high note.
Line Up Summary of Featured Music Videos
SEAY – All Around The World
Seàn Bonner – Mary Did You Know
Grey DeLisle – O Holy Night
Annemarie Picerno – Mr. Santa
Helen O'Shea – Christmas Blessings
Will Jay -: Christmas Comes Early
Ysanne – Christmas in the Sun feat. ZanZclan
Rev. Peter Unger – Christmas Cards
Official Website: http://bongoboytv.com/