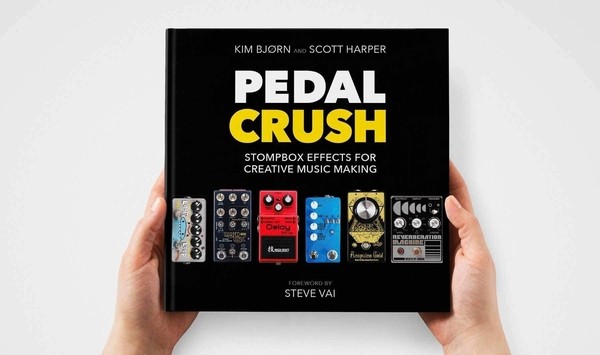 Back in the 60's through the early 70's, most guitarists starting bands couldn't afford the primitive "Fuzz" pedals just coming into the market. Guitarists were in heaven when finding a cheap electric guitar with a straight neck and an amp that only slightly buzzed. This period encouraged the need to improvise with the guitar itself, ala Eddie Van Halen. Randy Bachman told me that The Guess Who was in Cleveland appearing on The Upbeat Show (one of the only live music shows in the 60's) along with The Yardbirds. Jimmy Page was in awe of Canadian Randy's fuzz pedal as he had never seen one before! Every year at the NAMM show, there are thousands of pedals being exhibited. It seems like each year, all of the manufactures add a bunch more variations and designs making the possibilities limitless. Kim Bjorn has put together a really stellar comprehensive hard cover reference book with an intro by Steve Vai.
During recording I know I've run just about everything through not only rack-mount effects, but stompboxes. This includes vocals, drums, guitar/bass, keys, and just about anything else conceivable. The book uses detailed explanations of the various versions of virtually the most desired pedals/stompboxes and sounds categorically, and the theory behind the effects they produce. Pedalboards and software are also nicely explained in detail. Pedal Crush is like taking a crash course in pedal/effects theory and electronics. The book is well photographed and over 376 pages, covers more than 800 of these electronic magical devices. The artist and professional commentary in the book gives the reader another dimension of feedback. If you're using multi-effect units, recording a harp, or just mixing, you'll find valuable information well categorized. It's worth the price of admission to just simplify and de-mystify what many have determined is a complex undertaking.
Reference books are always a necessity for musicians, whether for looking up info on a particular device you already own, searching to purchase one that fits the need, or if you're just looking to sell one. This guide is a must have for basically any musician that is interested in adding effects or nuances to their music, or expanding their studio and recording. Check out the other related offerings by BJooks.com. Don't worry, the Denmark company shows a list of U.S. retailers. This makes a great gift for Christmas, birthdays, just to make a player smile, or for no apparent reason at all!