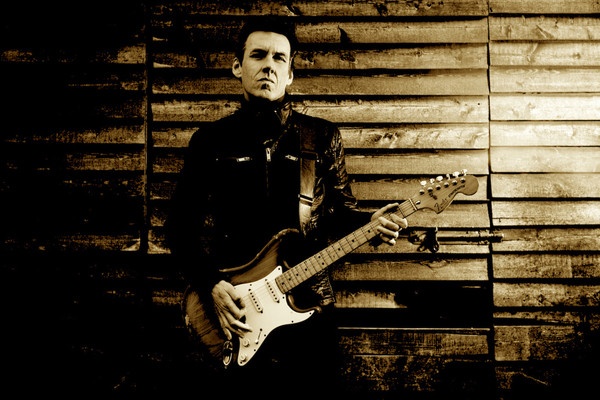 The very first thing that comes to mind when I hit play on this new record by Joe Hodgson is that he's not too shabby at all on guitar. Actually, Joe is one hell of a guitarist who is able to capture your attention simply by strumming those strings. I'm shocked that this is a debut, solo release for Joe Hodgson because the quality, precision and professionalism on this 15-track recording is impeccable!
Joe hails from Northern Ireland with a solid background in blues and hard rock. 'Apparitions' goes way beyond these two musical elements by incorporating a wide variety of styles. The inspiration behind the album stems from emotional and real life experiences for Joe Hodgson. The result is nothing short of spectacular as Joe proves he is a dynamite guitar player and musical force.
The only thing scary about 'Apparitions' is the fact that Joe absolutely kills it on guitar letting everyone know just who he is. Bringing a song to life through skillful playing is what this Irish guitarist is all about! Joe's mighty guitar is the star of the show here and nothing that will make you go BOO on 'Apparitions'.
The record starts up with a composition titled "Cantata 147/Fly Your Flag" that offers up funky 'n' rockin' riffs that comes across as such a cool vibe. Next, the listener will hear "Serena Sonata" that contains a Latin flavor and one intoxicating groove that will stick to you. Track three, "Bareback Blues" cuts right through while the following number, "The One That Got Away", is very melodic and smooth with a bit of a somber touch. Get ready to catch an uptempo song on "The Player" where it's time to swing and get your jam on! Ease into a slowed-down mode on "Till The Last Breath" and then enjoy some super slick playing from Joe on "Long Hard Look". Joe provides fierce guitar solos on "Disruptor" and then follows up with a big production of sound that is grandiose on "Feet From Chaos". Track 10, "Portrait of Portia Jayne", has an exotic feel while the next song, "Resurrection Dance" will have you throwin' on your dancin' shoes to the beat of funky lines. "Your Fragile Heart" is a deep cut with such sincerity while "Running Away From Me" supplies a lively rhythm that is full of zest. On track 14, "Redneck And The Snowflake", prepare to cut loose and have a good ol' time as Joe Hodgson and his trusty, fine-tuned sidekick will have you shredding away your worries. Joe ends on a powerful note with "Losing You Again" where the Bluesy Welcome Wagon has rolled into town and has shut it down!
'Apparitions' was just released on November 27, 2020 and I highly recommend checking out this exciting album. If you appreciate guitar instrumentals like I do, then you will love this new release from Joe Hodgson. Guitar is King for Joe and he proves that he is a virtuoso on the stringed instrument. I am a Joe Hodgson fan and 'Apparitions' is a pure joy to listen to, so I say guitars UP and I salute you Joe on a job well done!
By Jimmy Rae (https://skopemag.com/?s=Jimmy+Rae)