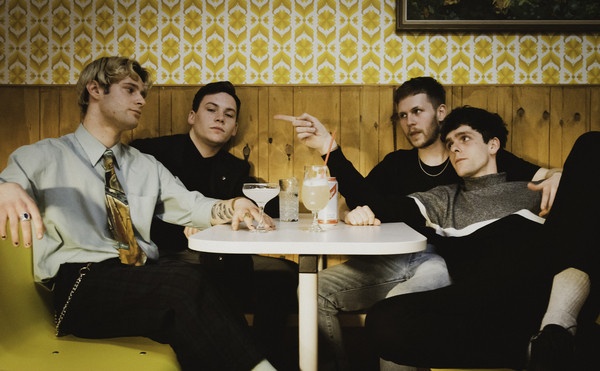 In the current climate, we're all looking for something to spruce up the draining days we've all had to endure. Well, luckily for us, rising boy band VELVET SHAKES are setting out to do exactly that with their recent single 'World'. Despite having only formed back in June 2018, Manchester based four-piece VELVET SHAKES and their genre-transcending sound have wasted no time in establishing themselves amongst the city's infamous music scene. Made up of the collective genius of Josh Bithell, Scott Hill, Louie Donnelly and Anthony Hickey, VELVET SHAKES' utilise their unique brand of electro-pop to carve a specific space suited just for them in the electronic landscape – and we love it. Fusing fundamentals of Indie, Disco and House, VELVET SHAKES sweep you into a kaleidoscope of a sonic landscape. With five singles already under their belt, VELVET SHAKES are on a path of total sonic domination as they storm the scene with their signature seasoning of indie-based guitar melodies and psychedelic synths.
– https://songwhip.com/velvetshakes/world
'World' is the utter funky fresh track from the genre-fusing foursome. Swimming with striking synths and vibrant vocal harmonies, VELVET SHAKES boast their most fully realised track to date. The self-professed deep house inspired' influence, when coupled with the subtle influences of the indie-pop scene, culminates in a sound mirroring a generation that both treasures the roots of its past whilst fervently pushing for progress. 'World' is a shining example of popular music's evolution – and it's an undeniable bop too. Josh Bithell's vocal sail over a soundscape of intoxicating disco drum grooves and intricately weaved synth waves. With expertly crafted guitar licks swimming through the ocean of tonal textures, Louie Donnelly's bass lays an irrefutably funky foundation for the track. Lockdown has started a revolution of DIY music and VELVET SHAKES are the torchbearers. The group says about the track:
"World is about a sort of conscious awakening and the appreciation of our planetary home that came with that,"
Whatever sparked the fuse on this sensational song of the season, we couldn't be more grateful. Despite having many live gigs cancelled due to the current constant chaos, VELVET SHAKES continue to build on their immense momentum as they release single after stunning single this year – and whilst right now they're unable to 'walk around the world' as their track exalts, it's no doubt, one day, VELVET SHAKES will be taking their tracks all around the globe.