Singer, songwriter, guitarist, and viral creator Payton Moormeier has released his pop punk new single "Don't Go" about a recent toxic relationship.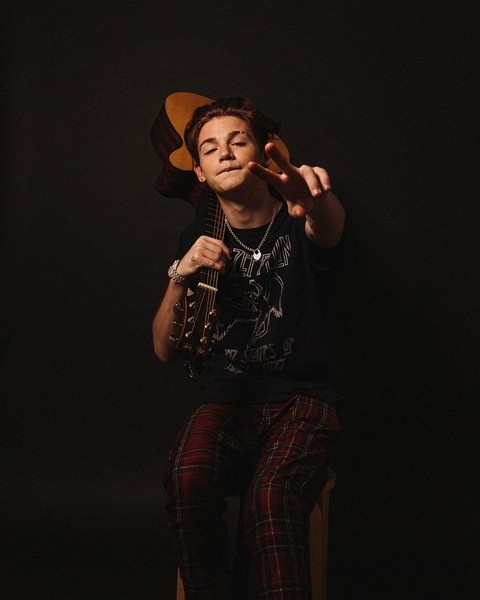 Check out the first listen on Loudwire. Inspired by real life events, the track is about how Payton needs a significant other in his life regardless of how much they mess him up. "Don't Go" is the next single from payton's collection where the singer has taken a challenging situation or event he's experienced and allowed it to transcend through his music. Creating songs that allows listeners to feel different emotions is what payton loves the most about being an artist and with each release, he offers his truth and inner-most thoughts through the best way he knows how.
– https://loudwire.com/payton-moormeier-dont-go/
"'Don't Go' is basically about a toxic relationship I was recently in," shares payton. "In the first verse, you can hear what I was going through in lyrics like 'you say you hate me, you can't take it'. It's based on all the negatives in this relationship. As the song progresses, it drops in the chorus saying "I kinda need this person in my life as much as they kinda mess me up."
"Don't Go" is the follow up to payton's third single "Hard To Breathe" where in the high octane visual, payton can be seen strapped to a hospital bed seeking aid for the loss of a lover. PRESS HERE to watch. On second single "Habits," a hummable riff cuts through hand claps, keys, and a skittering bounce as he delivers a hypnotic hook, "I can't seem to fall asleep, cuz thoughts of you and me always seem to haunt my dreams, it was better you and me." Payton's debut single, "Love Letter," was inspired after a relationship ended abruptly leaving him with no closure. He was inspired to express the feelings she left him with on the track and tells his story through airy guitar, hip-hop beat craft, and lyrical vulnerability, turning up with a signature style of his own.