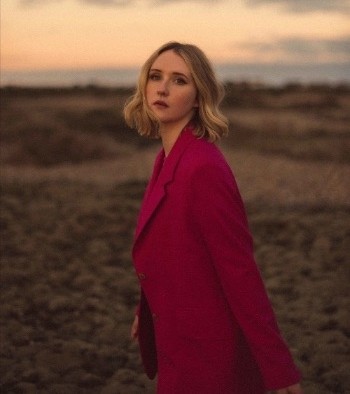 Having accumulated 30 million streams and completed a huge arena tour as guest to Dermot Kennedy, Lilla Vargen is one of Ireland's fastest rising new talents. After a break this Summer writing and recording, she now builds towards next year's release of her eagerly anticipated debut album by sharing her new single 'Blueprints'.
'Blueprints' is already established as a fan favourite as a regular set closer at Lilla's live shows. And it's easy to see why. The heart-breaking pop ballad is both theatrical in its drama and candid in its intimacy. Her beautifully evocative vocals surge with the emotion of someone who has lived through everything she is expressing.
– https://ingroov.es/blueprints
"Blueprints is a song I wrote during a time of change in my life. I was saying goodbye to someone I loved and starting a new adventure on my own. We all tend to plan ahead so much, but sometimes life can send us in a different direction. This song is about making sure you plan for yourself as well as for those you love. Life is unpredictable and people can either stick with you or leave you.
I think right now, with everything that's going on in the world, releasing this song and it's message has extra meaning. I've found this year to be incredibly difficult for a number of reasons and hopefully this song is something that people can relate to & find comfort and solace in," says Lilla.
Produced by Phil Cook (Birdy, Lewis Capaldi), 'Blueprints' is Lilla's first release since she shared 'Love You Twice' back in April. That single has been positioned at #1 on The Most Beautiful Songs In The World playlist (2.1 million followers) during a three-month run. Having so far released fewer than a dozen tracks, Lilla has already achieved seven Top 15 New Music Friday adds at Spotify plus numerous key playlists at Apple Music. Radio is rapidly gaining traction too, with Radio 1airplay from Phil Taggart, Huw Stephens and Best New Pop alongside support from Radio X and Ireland's RTÉ 1 and 2.